Dishin & Swishin 07/24/14 Podcast: Summer recruiting is in session! Kelly Graves on being a Duck, hitting the road and more
[display_podcast]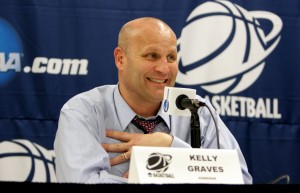 The WNBA season is roaring along with a tremendous All-Star game in the books, and playoff races taking shape. However, the month of July also is the time NCAA women's basketball coaches are allowed to blaze the recruiting trails, hitting tournaments all over the country to check out prospective players.
On this week's podcast, it is a pleasure to catch up with one of our women's basketball college coach "friends of the podcast," new Oregon coach Kelly Graves. A lot has changed for him since he last participated in the podcast.
For several years, while his teams were putting together impressive seasons at Gonzaga (317-176 in 14 years), Graves' name would come up in discussions for openings at BCS schools. He declined them all, expressing his satisfaction and happiness raising his family in Spokane. Situations change on and off the court, a need for newer challenges sets in sometimes, and before you know it, the unattainable is available, for the right situation.
As Graves describes on the podcast, Oregon is the right situation. Having spent many years in Oregon, the commitment of the athletic department, the facilities, and a chance to coach in the elite Pac-12 conference all combined to become an offer Graves could not refuse. After being years of getting high-caliber talent for Gonzaga but missing out on a few "Pac-12 caliber" players (he jokes about the expression frequently, wondering what exactly does that mean), he is heading out this July looking for future Ducks, not Bulldogs.
Outspoken and honest, Graves talks about the differences in going out and recruiting this July versus years past, the good and bad of the tournaments, what he thinks needs to improve, and what he enjoys.
Other topics include:
Differences between a Graves run program and that of former coach Paul Westhead at Oregon.
Getting talented players like Jillian Alleyne and Chrishae Rowe to buy into his system, which features defense in addition to fast-paced offense.
Recapping the Gonzaga years
Being in the Pac-12 as opposed to being in the WAC
The Nike influence
That court!
Good luck to Kelly Graves in his new endeavor at Oregon, and wishing all the coaches out on the road recruiting good luck, safe travels and organized tournaments!