Dishin & Swishin 07/31/14 Podcast: Kara Lawson and the Washington Mystics making noise in crowded Eastern Conference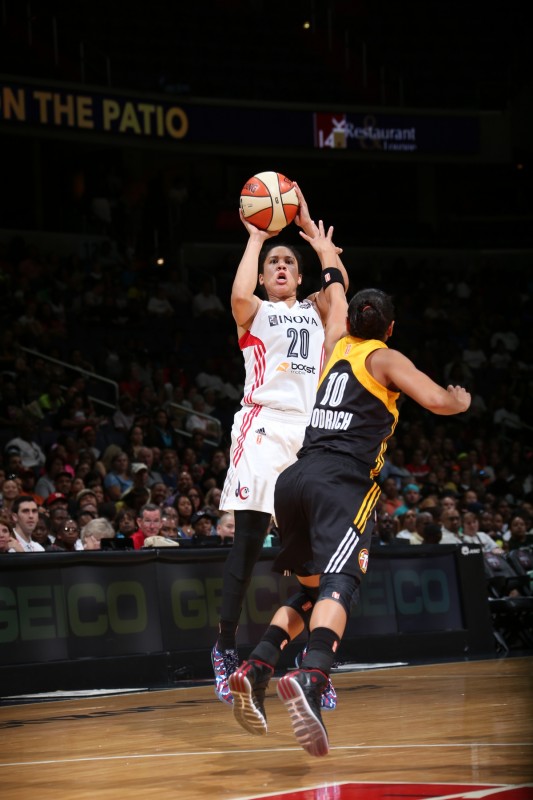 [display_podcast]
Overall, the WNBA Eastern Conference does not have the star power of the Western Conference, nor does it have the glamorous teams. So while Phoenix and Minnesota face off in the next "battle of the century" game tonight, four of the six teams in the East will continue to battle for playoff positions. Every game is crucial to those teams, because the five teams behind first place Atlanta are all within three games of each ether in the standings. Playoffs or draft lottery hangs in the balance for them all.
The Washington Mystics are one of those teams that are making noise about wanting a playoff berth. After starting July with consecutive losses, the team won six of their next seven, finally dropping an overtime thriller at New York this week to end a four-game winning streak. Washington suddenly finds itself in second place with seven games to go, the masters of their own fate with remaining games against Chicago (2), New York (2), Connecticut (2) and Indiana (1). They can determine not only where they will finish in the standings, but in tie-breaking scenarios as well.
Mystics guard Kara Lawson has struggled through injury and illness for a good portion of the season, but this week's Dishin & Swishin guest is peaking at the right time; she is getting healthy and playing an important role as the team builds momentum. Over the last three games, she is averaging over ten points and almost three assists per game, back in the sixth man role she thrived in earlier in her career.
The Mystics are an interesting mix of veterans and young players. There is Ivory Latta, Monique Currie, the two veterans leading the team in scoring, Kia Vaughn (the youngest veteran in the group) sharing minutes in the post, and Lawson for leadership. Second-year players Emma Meeseman and Tierra Ruffin-Pratt are joined by rookies Bria Hartley and Stefanie Dolson in getting big minutes as well. Head coach Mike Thibault has juggled rotations and combinations, giving at least nine players an average of ten minutes per game or more.
Topics discussed with Lawson this week include:
The Mystics getting healthy and getting used to play together
What makes Mike Thibault such an effective coach for Lawson
Hartley, Dolson and Meeseman developing into important contributors
The Eastern Conference as we head towards the post-season.
Enjoy the podcast!