Sixteen-year WNBA veteran Becky Hammon to retire at the end of the 2014 season


From the Stars:
San Antonio Stars guard and 16-year WNBA veteran, Becky Hammon, will retire at the conclusion of the 2014 WNBA season, the team announced today. Hammon will end her career as the Stars all-time leader in assists, points per game and three-point field goals made.
A six-time WNBA All-Star, Hammon was named one of the WNBA's Top 15 Players of All Time in July of 2011.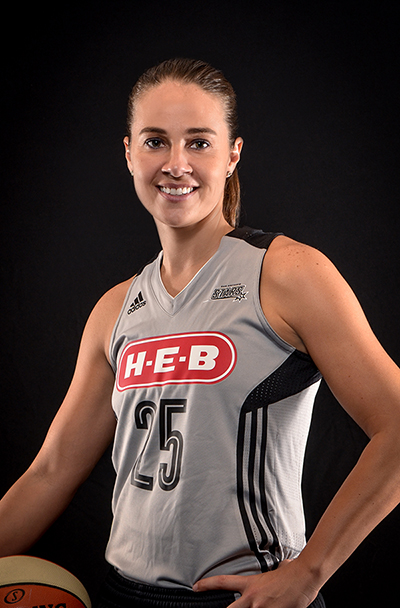 Hammon holds career averages of 13.1 points, 3.8 assists and 2.5 rebounds in 28.0 minutes in 440 games. She was named to the All-WNBA First Team twice and the All-WNBA Second Team twice in her 16 seasons.
In eight seasons with the Stars, Hammon has appeared in 213 games, averaging 15.9 points, 5.1 assists and 2.7 rebounds in 31.8 minutes. Her best season came in 2009 when she averaged 19.5 points, 5.0 assists, 3.3 rebounds and 1.58 steals in 33.8 minutes. Among Stars all-time leaders, Hammon ranks second in minutes (6,766) and field goals made (1,109). She was the top vote getter for the Stars All-Decade Team in 2012.
In WNBA history, Hammon ranks seventh in total points (5,756), second in three-point field goals made (817), fourth in assists (1,663), sixth in games played (440), first in free-throw percentage (89.6, min. 300 attempts), 11th in field goals made (1,887), 11th in total minutes (12,323), and 11th in free throws made (1,165).
"Becky Hammon has made a lasting mark on the San Antonio Stars and the WNBA," Stars General Manager and Head Coach Dan Hughes said. "She has worked tirelessly to become the best she could be on and off the floor. She has inspired in a wonderful way. The beauty of her game has been an amazing thing to have had a front row seat for."
The Stars acquired Hammon on draft night in 2007 when the team traded the number four overall pick, Jessica Davenport, to the New York Liberty along with a 2008 first round draft pick in exchange for Hammon and a 2008 second round draft pick.
Hammon has made the playoffs twelve times in her career including in six straight seasons with the Stars from 2007 to 2012. She leads the Stars in playoff games started (24), minutes played (877), total points (507), three-point field goals made (70), assists (105) and points per game (21.1).
In 2008, Hammon led the Stars to the only WNBA Finals appearance in franchise history. San Antonio finished the regular season with a franchise-best 24-10 record, earning the best record in the Western Conference. The Stars posted playoff series victories over the Sacramento Monarchs and the Los Angeles Sparks before falling to the Detroit Shock in the 2008 WNBA Finals.
"Becky Hammon epitomizes what the WNBA is all about: she has truly shown the world what is possible," said WNBA President, Laurel J Richie. "Having gone undrafted in 1999, Becky was determined to make her dream of becoming a professional athlete come true. Hard work and talent got her noticed and earned her a roster spot, and she never looked back. In addition to all her accomplishments, Becky's feisty leadership and no-look passes have made her a fan favorite. We thank Becky for all her contributions to the growth of this wonderful game and we wish her all the best on her future endeavors."
Hammon originally joined the league in 1999, signing with the New York Liberty after going unpicked in the 1999 WNBA Draft. In eight seasons with the Liberty, Hammon averaged 10.4 points and 2.5 assists per game in 227 games and helped guide New York to six WNBA Playoff appearances.
The 37-year-old spent four years at Colorado State from 1995 to 1999 where she was a three-time All-American and the 1999 Naismith Award winner. In her senior season, she led the Rams to a Sweet Sixteen appearance in the 1999 NCAA Women's Tournament.
During the 2014 season, Hammon is averaging 8.1 points, 4.1 assists and 1.5 rebounds in 24.5 minutes in 22 games.