Sparks take Ogwumike Bowl I, with dominant second half, defeat Sun 90-64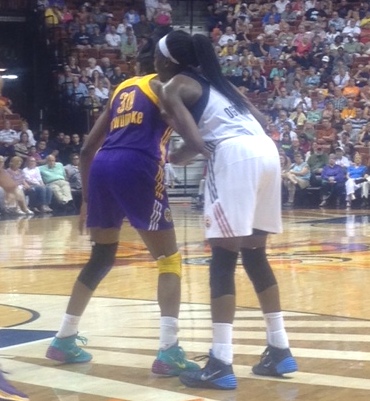 UNCASVILLE, Conn. – The hype was all about the Ogwumike Sisters, Los Angeles' Nneka and Connecticut's Chiney, both former number one overall draft choices, facing each other for the first time in their lives. The statistics will show they put up similar numbers, but Nneka's frontcourt teammates Candace Parker, Jantel Lavender, and Sandrine Gruda outscored the rest of Connecticut's post players 46-20 and the Sparks ran away with a 90-64 victory.
After leading by only six, 44-38 at the half, Los Angeles outscored Connecticut 30-10 in the third quarter, hitting 10-of-13 shots from the floor and 9-for-9 from the free throw line, while holding the Sun to 5-for-21 shooting. For the Sparks, Ogwumike and Parker each scored eight in the quarter, while Lavender added seven.
Lavender (19 points, 7 rebounds) said it was great to play with consistency on both ends of the court today.
"I think today we just really executed well," she said, "we knew when we needed to score, we got stops when we needed them. We just played really great as a team today."
Sparks head coach Carol Ross lauded her team.
"I was very pleased with our intensity coming out of the locker room for the second half," said Ross. "I thought our rhird quarter, we really imposed our will. Our power game was good and then we sprinkled in a little bit of our speed game."
Connecticut has now lost seven of their last eight games. The loss drops them into fourth place in the East, percentage points above Chicago. In danger of falling from a playoff spot, the Sun go back on the road for their next three games, in Seattle, Phoenix, and Washington.
Los Angeles, with two wins in a row, travels to Indiana to complete their road trip on ESPN2 versus the Fever on Tuesday before heading home. Today's win puts the Sparks in fourth place in the West, a full game ahead of fifth place Seattle.