Tulsa's youth brigade: Sims, Diggins backcourt propel Shock to victory on the road, Sun slide continues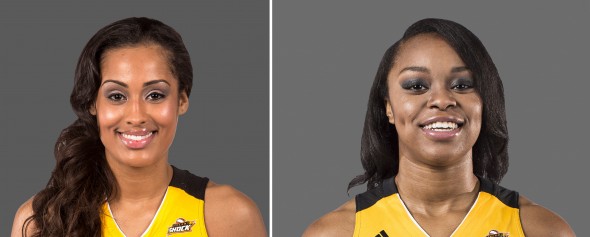 UNCASVILLE, Conn. – The Tulsa Shock (7-10) opened with a 12-0 run and with the exception of a second quarter run by the home team, controlled the Connecticut Sun (8-10) en route to a 96-83 victory Thursday night.
The backcourt of rookie Odyssey Sims (career-high 30 points) and Skylar Diggins (20 points) led the Shock, but it was the frontcourt duo of Courtney Paris and Glory Johnson that dictated the game.
Paris and Johnson combined for 16 rebounds, as the Shock outrebounded the Sun 42-27. The duo's eleven offensive rebounds was one more than the total of the entire Sun team.
Odyssey Sims led the Shock with 30 points for a career high. Her previous was 21 points against Phoenix on June 6. The rookie went 11-of-17 from the field and was a perfect 6-of-6 from the free throw line. Sims also had five assists in the effort. The guard collected 17 of her 30 points in the first half alone.
Four of Tulsa's starters finished in double-digits led by Sims and Diggins. Glory Johnson collected14 points and Courtney Paris had 12 points.
This is the 12th time this year guard Diggins finished with 20 or more points.
Sun coach Anne Donovan said the coaches had warned the Sun they had to be ready for Tulsa's rebounding.
"When you end up giving up 17 (offensive rebounds), it ends up being a huge thing," she said. "It's about focus. We talked about how this was the number one team, right up there one or two in offensive boards, and Courtney Paris is a load. She works her butt off for those boards. We have to do a better job."
Katie Douglas (21 points) was disappointed by the team's effort and performance.
"Coach talked to us about doing better in our matchups, and it was mentioned a couple of days ago and it definitely didn't get taken care of. They exposed us on the boards, they exposed us at every position."
For Connecticut, the season is more than half over, and the success that came from a six-game winning streak has faded into a four-game losing streak. There have been bright spots, notably the improved play the last few games of rookie Alyssa Thomas (24 points versus Tulsa despite wearing a facemask to protect a broken nose), and the consistent play of fellow rookie Chiney Ogwumike (seven double-doubles this year), but their overall youth has shown in some inconsistent plays and an inability to close out some close games.
In second place not long ago, the Sun are suddenly in fourth place. While still only half a game out of second place, they are also only one and a half games out of last place in a close Eastern Conference.
For Tulsa, this was a big road win. As Los Angeles continues to struggle, the Shock reaches the half way point of their season only one half game out of the Western Conference's final playoff spot
"I thought it was a great team victory," said Diggins. "What we have been struggling with in the past is our starts. We've had to play from behind in our last four or five games. By coming out 12-0, establishing ourselves on the defensive end, attacking and being the aggressors on offense and not the reactors, I thought that was important for us to get a good start."
Diggins also praised the Tulsa bench.
"They are so key to our success. Jordan Hooper came out and spread the defense by being able to knock down those threes. Vicki Baugh came in and had great defense for us. Angel Goodrich came in and ran the point to give us rest. I thought she did a good job."
Sims was focused in earning her career-high.
"My mindset was just to stay aggressive," said the rookie guard. "I don't think that any of us were aggressive last game in New York. I just had one of those games. My main focus was to just stay aggressive from the jump and not let up. I found some gaps, really whatever I could get in. I was making most of my shots, so I just kept shooting."
Douglas has provided veteran leadership for the younger Sun players, but realizes that she has to walk a fine line with the confidence of those players during the losing streak, and a schedule that will see the Sun on the road for seven of nine games remaining this month.
"I don't want to harp too much or be too negative," said Douglas, "but sometimes we have to grow up and we have to do a better job. I don't want to kill the young kids' confidence. I'm definitely more positive than anything, but at the same time we need to be ready to play. We need to understand who were playing, their tendencies, and our matchups."
The teams will meet again, in Tulsa this time, on Saturday night.