Despite blowout win, end of Connecticut Sun season leaves coach Donovan feeling empty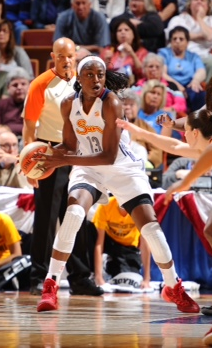 UNCASVILLE, Conn. – The Connecticut Sun capped their 2014 WNBA season with an 84-55 blowout of Eastern conference first place Atlanta Dream before a crowd of 7,689 on Fan Appreciation Night.
Still, disappointment in the team's 13-21 final record was evident in the postgame comments of head coach Anne Donovan.
"I feel pretty empty, I'll be honest," said Donovan. "It's a great win and I'm really happy that we were able to play everybody. Everybody was able to step in and produce. But, I'm not looking to have a longer offseason than I already have. The takeaways on this are we finished taking care of our home floor and everybody has a little bit of taste for what we need to accomplish next year. I'm happy we're going off with a positive note. Now, there needs to be the commitment level that this time next year we aren't departing this early."
After advancing to the conference finals two years ago, the Sun has been in the lottery for back-to-back seasons now. Last year their pick yielded potential rookie of the year Chiney Ogwumike, and the pick acquired for trading Tina Charles was Alyssa Thomas. Both Ogwumike and Thomas will most likely be first team All-Rookie selections.
The Sun will again have two lottery picks, with their own pick plus that of the Liberty, part of the same Charles trade. However, their chances at the top pick overall is approximately 27 percent.
For today, though, the Sun played one of their best games of the year, dominating the Dream at times. The Sun came out and hit 60 percent of their shots in the first quarter, opening a 27-20 lead. They extended the lead to ten at the half, and blew the game open in the third quarter. They outscored the Dream 24-8 for the period, as Atlanta began using their bench liberally.
Second-year guard Alex Bentley, an important cog in the team's development all season, closed her year with a 19-point, four-assist effort to lead the Sun. Ogwumike added 14 points and seven rebounds. Thomas had 13 points.
Everyone on the Sun who played scored, including a season-high eight points from second year, fan favorite Kelly Faris, who also added two rebounds and two assists in a season-high 24 minutes of play.
Angel McCoughtry, who sat out a few games last week nursing injuries, led Atlanta with 10 points in 22 minutes. McCoughtry and point guard Celine Dumerc were the only Dream starters to play over 20 minutes. Tiffany Hayes played a team low eight minutes, and left with an injured wrist early in the third quarter.
Rookie Shoni Schimmel scored nine points in a game high 28 minutes, but was only 3-for-12 from the floor.
"This was a tough game for us to play tonight" said Atlanta head coach Michael Cooper, "especially against a team with nothing to play for, except for pride. What it showed us though is sometimes pride is better than going into the playoffs because you'll play hard."
The Dream has home court advantage throughout the Eastern conference playoffs, with their first round opponent to be determined by games played Sunday evening.