Diana Taurasi signs contract extension with Phoenix Mercury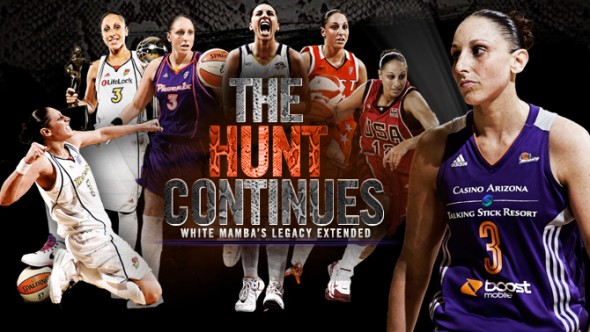 From the Mercury:
The most decorated player in team history and one of the best players in women's basketball history, Phoenix Mercury guard Diana Taurasi, today signed a multi-year contract extension, the team announced. Taurasi is in the 11th year of her storied WNBA career that has been spent entirely with the Mercury.
"Diana Taurasi isn't just the face of our franchise, she is the face of women's basketball," said Mercury general manager Jim Pitman. "She is an example to young athletes everywhere—a fearless competitor, leader, and a consummate teammate with an unmatched drive to be the best. She is everything you would want to build a championship team around and we are thrilled that she will continue her career in a Mercury uniform."
"Why would I ever want to play anywhere else?" said Taurasi. "As a person and a professional, I have a deep connection to this city and this organization. I am happy and feel really good about staying. At All-Star this year, everyone got to see what I see every day: Phoenix is a great basketball community, the Mercury is a first-class organization, and this a family that I'm proud to be a part of. There is no better place to play."
A two-time WNBA Champion with the Mercury (2007, 2009), former league MVP (2009) and WNBA Finals MVP (2009), Taurasi has played 325 career games, all with the Mercury, since originally being selected first overall by Phoenix in the 2004 WNBA Draft. The second-leading scorer in league history is a five-time league scoring champion, who also owns the second-highest scoring average in WNBA history. Named one of the WNBA's 15 greatest players of all-time, Taurasi is a seven-time All-Star and an eight-time All-WNBA First Team selection. The longest-tenured player in Mercury history, Taurasi has played more games in a Mercury uniform than anyone else, and leads the franchise in 15 other career statistical categories.
The league's 2004 Rookie of the Year, Taurasi is one of the sport's most decorated athletes, whose non-WNBA accolades include three Olympic Gold Medals, six Euroleague titles, three USA Basketball Female Athlete of the Year awards, and three NCAA Championships while at the University of Connecticut.
This season Taurasi leads the WNBA in assists (5.8) and in 2013 became the first player in league history to finish in the top two in both scoring and assists in the same season, something last accomplished in the NBA by Nate Archibald in 1972. Taurasi has led the Mercury to a league-best and franchise-record 25-4 (.862) mark in 2014, and to a franchise-record 16-game win streak, the second-longest in league history.