Phoenix Mercury look to erase five years of frustration as they head into final regular season matchup with Minnesota Lynx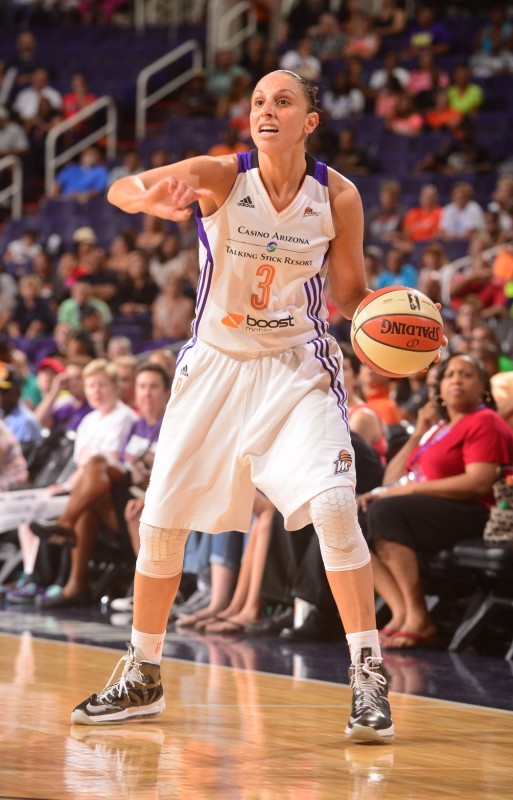 It has been five years since the Phoenix Mercury won a WNBA championship. After taking the title in 2007 and 2009, one might have expected another to come right after the others. It is funny how injuries, interruptions and various other things get in the way of "destiny" when it comes to sports franchises.
Players and coaches have come and gone, a few key pieces remain in Penny Taylor and DeWanna Bonner, but the true constant has been number three, Diana Taurasi. She is the undisputed leader on and off the court, what binds the successes of the past to the excitement of the present and hopes for the future. Back then it was with Cappie Pondexter, Tangela Smith, and Temeka Johnson along with Corey Gaines as coach. Now it is with Brittney Griner and Candice Dupree, led by head coach Sandy Brondello.
Her role is different this year, less of a scorer and more of a facilitator.
"I think it sucks," Taurasi says straight-faced when asked about passing more and shooting less, "we have to do something about that!" Then comes the ever-present smile and laugh, and a sweeping gesture around the locker room.
"The strength of this team," she explains, "look around this locker room, on any given night anyone can carry us, so whoever is open, that's the man with the hot hand, and we're doing a pretty good job of finding them."
Taurasi and Minnesota's Maya Moore are seemingly the only candidates for Most Valuable Player in the WNBA this season. In her eleventh season, she is playing some of her best all-around basketball.
Taurasi is one of five Mercury players scoring in double figures this season, leading the team at just over 17 points per game, but is also number one in assists in the league, dishing out six per game.
If  Taurasi is the engine that drives this train, the outgoing and gregarious leader always ready with the quip or the quote, it is the understated presence of Candice Dupree, that plays the Tim Duncan role to Taurasi's Tony Parker. Quiet and self-assured, Dupree is having a phenomenal season, averaging almost 15 points per game and just over seven rebounds per game, while hitting 55 percent of her shots from the floor.
Paired with Brittney Griner, who is enjoying a record-breaking second season in the league, the Mercury are ready to battle the strongest of post combinations. In recent games they outscored Minesota's Rebekkah Brunson and Janel McCarville 28 to 12, Los Angeles' Nneka Ogwumike and Jantel Lavender 30 to 24, and so on, taking advantage of each other's strengths.
"They are trying to double me a lot, trying to cut off the lane," Griner commented about how teams are trying to defend her, "so I try to find cutters like (Du)Pree. They are trying to make it hard for me down there, so I take what they give me."
A more confident Griner has improved in every statistical category this season from her rookie year Having already broken the single game blocked shots record earlier this year with 11 against Tulsa, she is now targeting the single-season record. Her off-season time in China helped her game, as has work with coach Sandy Brondello, but there is a more simple contributing factor too.
"I worked hard in China, worked with Sandy, and just having a year under my belt all helps," Griner said. "Also,the media has died down, I don't have to think about that at every game, I'm just feeling more comfortable in my game."
As the first-place Mercury head toward the fourth and final matchup with second place Minnesota on Saturday night in Phoenix, the hold on the top spot and tie breakers are at stake. Phoenix won the first two games in the series, Minnesota won the third. Saturday night's game could go a long way to determining home court advantage if these two teams meet in the Western Conference finals.
Now that is the series we all cannot wait to see.