Dishin & Swishin 09/25/14 Podcast: A look at the 2014 FIBA World Championship for Women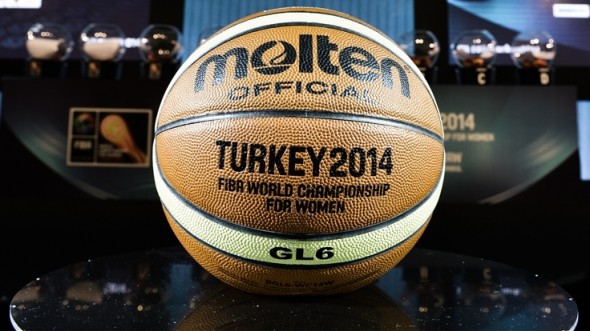 [display_podcast]
After a brief hiatus coinciding with the end of the WNBA season, our favorite players lace up again starting this weekend. This time, however, in additional to playing for a title, they are walking on the court with medals on the line and a sense of patriotism.
The 2014 FIBA World Championship for Women kicks off this Saturday, September 27 in Turkey, featuring sixteen qualifying teams from all over the world. The teams are divided into four groups. Two countries will play for the championship on Sunday, October 5, 2014.
The United States is the prohibitive favorite, with a team that features both experience and youth. While veterans like Sue Bird, Diana Taurasi and Lindsay Whalen return, Tamika Catchings and Sylvia Fowles are not, making for a different look to the roster.
On this week's Dishin & Swishin podcast we look at the teams, the players, and the possible matchups that should make this tournament fun to watch with Richard Cohen, purveyor of the WNBAlien.com website and as knowledgeable fan of the women's game.
2014 FIBA World Championship
USA Schedule

Sept. 27
China vs. USA
Abdi Ipekci Arena
Istanbul, Turkey
2:30 p.m. ET
ESPN 2/ESPN3/LiveBasketball.TV/NBA TV

Sept. 28
USA vs. Serbia
Abdi Ipekci Arena
Istanbul, Turkey
2:30 p.m. ET (ESPN3/LiveBasketball.TV)

Sept. 30
USA vs. Angola
Abdi Ipekci Arena
Istanbul, Turkey
2:30 p.m. ET (ESPN3/LiveBasketball.TV)

Oct. 1 – Quarterfinal Play-In Games
Oct. 3 – Quarterfinals
Oct. 4 – Semifinals
Oct. 5 – Finals
Some of the topics covered include:
A breakdown of each Group (four teams in each group) in the opening round
Which countries should succeed, which are less likely
Top players on each country's roster that are in the tournament, and some that are missing
Geno Auriemma's United States team, the roster breakdown, and what to expect
Casual fans may see this tournament and expect another United States dominating run to gold, but there is more than meets the eye. International power in women's basketball has changed and shifted in recent years:
Russia, strong for so many years, is not even in the tournament; they did not qualify
Australia, although ranked number two per FIBA's current rankings, has been decimated by injuries to stars Lauren Jackson and Elizabeth Cambage, and may not be the biggest threat to the Americans
Spain, ranked number six, features familiar WNBA names Sancho Lyttle and Anna Cruz, plus Alba Torrens, one of the most dynamic and exciting all around players in the world
France proved its strength by defeating the United States in a tune-up tournament in Paris prior to the World Championships. Sandrine Gruda and Celine Dumerc, while back ups in the WNBA, thrive in the international game, and help make the French team a threat to anyone
Brazil, while not as strong as prior Brazilian teams, still features center Erika de Sousza, one of the best centers in the world and capable of carrying a team
Turkey, the host team, will be buoyed by rabid fans, and includes former WNBA player LaToya Pringle Sanders, a naturalized Turkish citizen
Get ready, because the action tips off Saturday morning at 7:00 a.m. ET with Mozambique and Canada, along with a first look at Cuba and Australia 15 minutes later. Games are scheduled to be on ESPN3 and the WatchESPN app.
The United States opens with a game against China, the top ranked team in their group, at 2:30 p.m. ET. China, along with Serbia, are the best teams not coached by Auriemma in Group D.
With talent such as WNBA Most Valuable Player Maya Moore and her Minnesota Lynx teammates Whalen and Seimone Augustus plus recently crowned champions Taurasi, Brittney Griner, and Candice Dupree of the Phoenix Mercury, part of the fun in watching this tournament will be just watching the skills and abilities of the American team. Watch the reaction Angel McCoughtry gets from the fans in Turkey; a star while playing there the last few years, she is immensely popular over there and will be a fan favorite for sure.
Good luck to all participating in the World Championships, and enjoy our preview!
Preliminary Round Groups
Group A
W-L
Group B
W-L
Group C
W-L
Group D
W-L
Brazil
0-0
Canada
0-0
Australia
0-0
Angola
0-0
Czech Republic
0-0
France
0-0
Belarus
0-0
China
0-0
Japan
0-0
Mozambique
0-0
Cuba
0-0
Serbia
0-0
Spain
0-0
Turkey
0-0
South Korea
0-0
USA
0-0