Dishin & Swishin 2014 WNBA Finals Podcast: ESPN's Ryan Ruocco on covering the WNBA, the series and more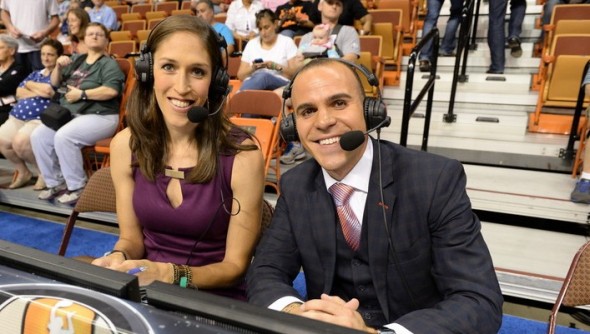 [display_podcast]
In the opinion of many ardent (and hard to please) WNBA fans, ESPN has assembled the best announcing team in recent memory.
No one is as passionate, and few are as knowledgeable as analyst Rebecca Lobo, the former UConn legend and student of the game.
Holly Rowe is tremendous as a sideline reporter, getting players and coaches to respond to questions and give insightful answers.
The anchor of the team is play-by-play voice Ryan Ruocco, currently finishing his second year as ESPN's lead WNBA announcer.
Ruocco is a sports renaissance man. In addition to his WNBA duties, Ruocco covers pro and college football for ESPN and ESPN Radio, NBA basketball for the YES network and hosts a daily radio show on ESPN New York's 98.7 FM station.
It is a pleasure to welcome Ruocco to a special WNBA Finals edition of the Dishin & Swishin podcast. Just listen, and you will hear that he is not one of those NBA announcers thrown in to fill the job; he knows his stuff, and loves what he is doing.
Topics covered in the podcast include:
What there is to like about women's basketball
Working with Lobo and Rowe, and "evening up" the height factor
Covering this year's WNBA All-Star game, including Shoni-mania
Of course, we also spend time breaking down the finals; that is why we are here after all!
What makes each team special?
BG versus Big Syl (please let them play, referees).
Diana Taurasi, the legend, the myth, the player.
Pokey Chatman and Sandy Brondello, and the perils of mic'ing up the coaches.
Overall, the podcast is a fun listen to help you get ready for the finals! Also, it is nice to be able to say all three (Ruocco, Lobo, and Rowe) have now been guests of the podcast at different times.
Enjoy!