Looking back at game one of the 2014 WNBA Finals: What went wrong for the Sky, a blistering start for the Mercury
2014 WNBA Finals Game One
Phoenix 83, Chicago 62
Sept. 7, 2014
What Went Wrong for Chicago
A Shaky start: Within the first five minutes of game one of the 2014 WNBA Finals the Chicago Sky was already in deep trouble. The Sky committed four turnovers as the Phoenix Mercury went on a 9-0 run. Sky head coach Pokey Chatman inserted the2014 WNBA Sixth Woman of the Year Allie Quigley in the lineup to replace starter Tamera Young who began her playing time with a bad pass. The Sky would end the quarter with just eight points on the scoreboard to the Mercury's 15.
Pokey Chatman: "I don't think we ever recovered from that 1st quarter." #wnba pic.twitter.com/PlKbQRXT6D

— Hoopfeed.com (@hoopfeed) September 7, 2014
The wrong type of record setting: Both teams set records Sunday night but for the Sky, the majority of their milestones were for dreadful accomplishments. They scored the fewest first quarter points of all-time in the Finals. Their 20 points in the first half tied the fewest scored in a first half in Finals history (matching New York vs. Houston, Sept. 2, 1999).
An ailing Delle Donne: Chicago's star 6-5 guard/forward missed 17 games this season due to symptoms from Lyme disease and only played a little over 10 minutes in game one. Hampered by lower back problems, Delle Donne felt that she was a hindrance to her team and consulted with coach Chatman about her condition during halftime. As a result, she sat out the second half. This was a huge blow to Chicago's offense as during the playoffs she has averaged 17.3 points per game.
Elena Delle Donne on her health: "A lot of lower back inflammation and trying to control the pain." #wnba pic.twitter.com/LsZhrUFac0

— Hoopfeed.com (@hoopfeed) September 7, 2014
A deficit of points in the paint: Despite the presence of double-double machine, starting center Sylvia Fowles (19 points, 11 rebounds), the Sky was no match for the Mercury in the paint. Chicago finished with 26 points in paint, trailing Phoenix's 42.
Points of Optimism for the Sky
Free throws: Chicago tied the highest free throw percentage in a Finals game (16-of-16).
Offensive rebounds: While Phoenix had a total of 32 rebounds to Chicago's 29, when it came to offensive boards, the Sky led the Mercury 13 to 5.
More games: Tuesday is another day, another game and a chance for the Sky to earn redemption. Only one game is in the books of the best-of-five series but if the Sky lose Tuesday night, they will set themselves up for a Sisyphean time when they get back home to play at UIC Pavilion Friday night.
What Went Right for Phoenix
Brittney's Block Party: Second-year center Brittney Griner recorded the most blocks in a Finals game, finishing with eight. Six of those occurred in the first half, another Finals record, and five in the first quarter. The previous postseason high was seven by Lisa Leslie.
Griner: I blockety blockety block block y'all #wnba #CB4

— Hoopfeed.com (@hoopfeed) September 7, 2014
"YOU GET BLOCKED! AND YOU GET BLOCKED! AND YOU GET BLOCKED! EVERYBODY GETS BLOCKED!" – Brittney Griner #CHIvsPHX #WNBA

— Tiffany B. Brown (@webinista) September 7, 2014
A blistering start: On that 9-0 run to begin the game and the 22-point halftime lead, Phoenix head coach Sandy Brondello said her team was "really locked in."
Smooth as silk offense from Dupree: Candice Dupree connected on her first 10 field goal attempts, setting a playoff and Finals record for consecutive made shots. The previous playoff best was nine by her teammate, Griner (Phoenix at L.A., Aug. 24, 2014). Before that record, the previous Finals best was eight by Seimone Augustus (Minnesota vs. Atlanta, Oct. 5, 2011)
According to Brondello, Dupree was "amazing."
"She's an intelligent player and knows how to get to the right spots," the coach added.
Pokey Chatman was very direct in her praise of Dupree: "She's just damn good. Period."
Dupree is just a matchup nightmare… Defense scrambles…she seems to be the 1open after several shifts… #GameChanger #WNBAFinals @WNBA

— ChristyWintersScott (@ChristyWScott51) September 7, 2014
Overall offensive dominance: Phoenix shot 58.5 percent (38-of-65) from the field, setting a Finals record for highest shooting percentage in a Finals game (previous record: 56.9 percent (33-of-58) by Minnesota vs. Atlanta – Oct. 8, 2013)
Bench experience: Phoenix has championship experience on their bench with seven-year veteran, guard Erin Phillips. Acquired by the Mercury in March from the Indiana Fever, the Australian national squad teammate of Phoenix forward Penny Taylor was a member of the 2012 WNBA championship team. She is a quick spurt of energy and offense off the bench.
By the Numbers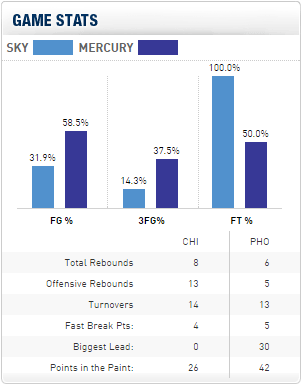 Image: WNBA