Mercury rises, rolls over Sky to take game one of the WNBA Finals, 83-62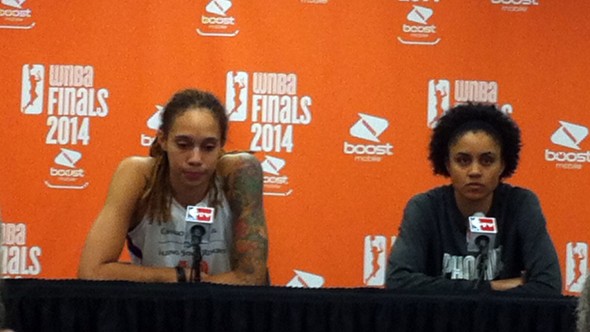 PHOENIX, Ariz. – Having cruised through the regular season and first two rounds of the WNBA playoffs in record-setting fashion, the Phoenix Mercury continued to dominate in game one of the WNBA Finals, 83-62.
Candice Dupree led the Mercury with 26 points on 13-for-17 shooting while Diana Taurasi contributed a double-double with 19 points and 11 rebounds.
Second year center Brittney Griner was a dominant presence on both ends of the floor, with 12 points, seven rebounds, and eight blocks (a finals single-game record). Perhaps more importantly, Griner held Sky center Sylvia Fowles, who was crucial to the Sky's success in the Eastern Conference finals, to 8-for-20 shooting, most coming when the outcome of the game was no longer in doubt.
With Sky star forward Elena Delle Donne clearly nursing her sore back, the Mercury jumped out to a 9-0 lead, which they extended to 15-8 after one quarter, and an insurmountable 42-20 lead at the half. Delle Donne only played 10:24 seconds for the game.
The Sky will try to rebound in game two on Tuesday night, at 9 p.m. ET in Phoenix