USA Basketball women's national team roster set for exhibition versus Canada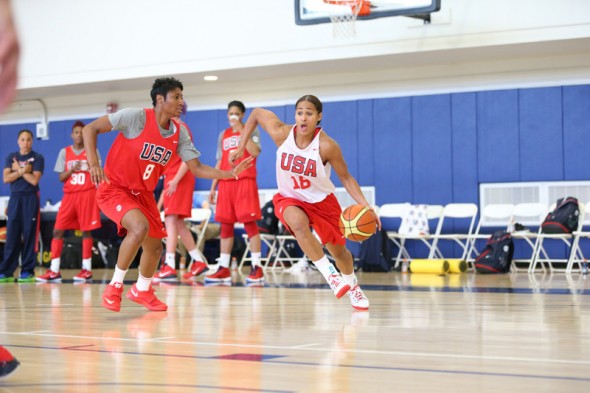 From USA Basketball:
Monday, September 15, 7 p.m. ET, Webster Bank Arena in Bridgeport, Connecticut. TV: ESPN2.
The roster for the 2014 USA Basketball Women's National Team, which tipped-off training camp on Sept. 8 in Annapolis, Maryland, with 17 athletes, has been pared down to 13 for its Sept. 15 exhibition contest against 2013 FIBA Americas silver medalist Canada. Selections were made by the USA Basketball Women's National Team Player Selection Committee, chaired by USA Basketball women's national team director Carol Callan.
Traveling on to Europe to compete in the Sept. 19-21 France International Tournament in Paris as finalists for the 2014 USA World Championship Team are:
Seimone Augustus (Minnesota Lynx)
Sue Bird (Seattle Storm)
Tina Charles (New York Liberty)
Skylar Diggins (Tulsa Shock)
Stefanie Dolson (Washington Mystics)
Jantel Lavender (Los Angeles Sparks)
Kayla McBride (San Antonio Stars)
Angel McCoughtry (Atlanta Dream)
Maya Moore (Minnesota Lynx)
Nnemkadi Ogwumike (Los Angeles Sparks)
Odyssey Sims (Tulsa Shock)
Breanna Stewart (University of Connecticut)
Lindsay Whalen (Minnesota Lynx)
2014-16 USA Basketball Women's National Team members DeWanna Bonner (Phoenix Mercury), Elena Delle Donne (Chicago Sky), Candice Dupree (Phoenix Mercury), Sylvia Fowles (Chicago Sky), Brittney Griner (Phoenix Mercury), Diana Taurasi (Phoenix Mercury) and Courtney Vandersloot (Chicago Sky) were competing in the recently concluded WNBA Finals and unable to attend the USA's domestic training camp. USA Basketball will announce at a later date which of these athletes will join the finalists in Europe.
"All the players knew that today was going to be the day that we were going to try to get to 12," said USA National Team head coach Geno Auriemma of the University of Connecticut. "As it turns out, the committee kind of got stuck between number 13 and number 12 so we decided to stay at 13 for tomorrow's game and take 13 over to Europe with us. Then we'll add those that are coming, that played in the championship series.
"The process itself is not an easy one because we don't have a lot of time, so it is not ideal. But at the same time it gave us an opportunity to see what the players' strengths are and how they fit into the puzzle. For the players who are not moving forward, it's as much about timing in terms of who's in their position, the number and experience of players in their position. They were great, they worked hard, they are devoted to USA Basketball and they did everything we have asked them to do. They all have a future in the game, in USA Basketball and we made sure they know that. But the 13 that we have represent the best that we have right now and we're only going to get better when we add those guys that are coming later this week."
The FIBA World Championship will be held Sept. 27-Oct. 5 in Ankara and Istanbul, Turkey.
Finalists for the 2014 USA World Championship Team will compete in the 2014 France International Tournament in the Stade Pierre de Coubertin in Paris, Sept. 19-21. Opening against Australia on Sept. 19, the U.S. will face China on Sept. 20 and close the round-robin tournament against host France on Sept. 21.