Stanford off to the races, Ogwumike-less yet fast and aggressive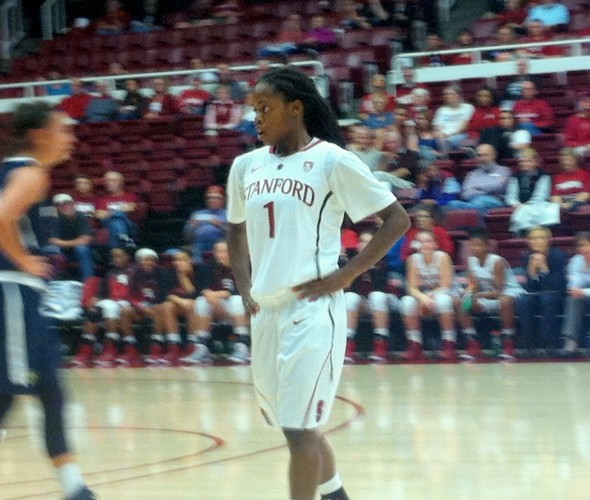 When No. 6 Stanford opens its regular season hosting Boston College at Maples Pavilion, Tara VanDerveer's squad will have two big questions hanging over their performance:
How will they fare without an Ogwumike on the team?
Will they successfully implement a fast-paced, backcourt-based offense in place of the triangle offense used by VanDerveer for over a decade?
Using their preseason games as a gauge, Stanford appears ready to emerge racing out of the gate, quicker and more guard-oriented than in years past.
"We're playing a new style that's hopefully going to work with our skill set," commented VanDerveer on the uptempo offense.
This past summer the Stanford coaching staff spent time with Milwaukee Bucks assistant Joe Prunty and former Lakers coach Mike D'Antoni to learn the details of a more guard-oriented, pick-and-roll offense.
Replacing the Production of the Chiney Ogwumike
While they do not have the formidable post presence of the Pac-12 all-time scoring and rebounding leader in Chiney Ogwumike, Stanford has a cadre of wily guards including senior Amber Orrange and sophomores Lili Thompson, Briana Roberson and Karlie Samuelson.
Boston College at No. 6 Stanford
5:30 p.m. PT, Maples Pavilion, Stanford, Calif.
Stanford is 3-1 all-time against Boston College. The Cardinal opens its season against the Eagles for the second consecutive year.
Last outing, Nov. 9, 2013, Chestnut Hill, Mass: Stanford 83, Boston College 71
Boston College returns three starters return to their lineup: junior captain Nicole Boudreau, senior Lauren Engeln and junior Kat Cooper. Also returning will be sophomore Kelly Hughes, who emerged as a scorer in the second half of the season.
---
Orrange, is also the top returning rebounder. Thompson and Roberson will help the team maintain an intense, high-speed rhythm and Samuelson provides slashing ability and range.
In the frontcourt, freshman Kaylee Johnson was impressive during preseason, starting both of the Cardinal's exhibition games. The forward had a double-double in the 105-50 victory over Vanguard (12 points, 16 rebounds) and seven points plus 12 points against UC San Diego a week later in a 74-51 win.
Sophomore Erica McCall will shore up the paint presence. She had a total of 33 points, 18 rebounds and 7 blocks during the preseason contests.
In addition, senior forward Taylor Greenfield stepped up in the tougher exhibition contest vs. UCSD to contribute 16 points.
After the second preseason contest, a competitive matchup that had UCSD (coached by Tara's sister Heidi) getting within three points in the second quarter, VanDerveer praised the players who she felt stepped up to the plate including Thompson and Greenfield but commented that "we need more from more people."
When asked about how her team fared with the new offense, she gave a succinct answer: "We have a long way to go."
After facing BC during the opener, Stanford will have to turn around and prepare to host No. 1 ranked UConn Monday evening in a game that will be televised on ESPN2. Boston College will finish the second leg of their West Coast trip at St. Mary's of California on Sunday Nov. 16.
Friday's probable starters for the Cardinal are Thompson, Kaylee Johnson (not to be confused with sophomore forward Kailee Johnson), McCall, Orrange and Karlie Samuelson.
Probable starters for the Eagles: Nicole Boudreau, Lauren Engeln, Kat Cooper, Kelly Hughes, Karima Gabriel.
Changing of the Pac-12 Guard?
In addition to changes in personnel and offense, Stanford also faces a more competitive conference. Every single coach in the Pac-12 commented on the strength of the league during the conference's media day last month in San Francisco. To top it off, in the media preseason poll, California took the top spot. It was the first time since 1999 that Stanford did not get enough votes to be No. 1 in media poll.
However, VanDerveer, a Hall of Famer with 927 career wins and two national championships, is not phased by the competition and insists that the conference has always been tougher than others around the country realized.
"Do I expect a big battle this year? Yes, but I always have," said VanDerveer on media day. "I always remember it being really good and really deep. And I was sometimes very disappointed when other people didn't recognize that (the depth of the Conference) because it was difficult to win"