No. 2 UConn opens American Athletic Conference season with 96-45 win over SMU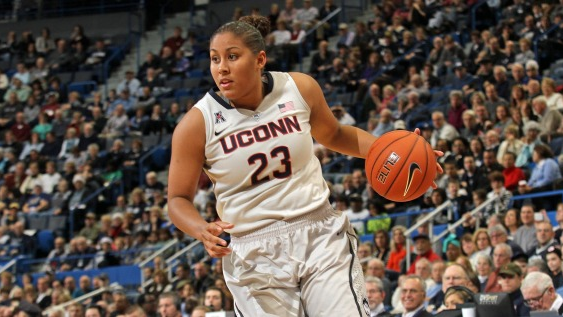 HARTFORD, Conn. – After home victories in Bridgeport and Uncasville, the Connecticut Huskies (9-1, 1-0) returned to Hartford to open American Athletic Conference play with a 96-45 win over Southern Methodist (4-8, 0-1).
A crowd of 9,972 saw guard Moriah Jefferson lead the charge, pouring in a career-high 24 points on 8-for-12 shooting, including four three-pointers, also a career high.
Jefferson was far from the only one establishing personal or team bests.
Kaleena Mosqueda-Lewis moved into a tie with Maya Moore for career three-pointers made in the Huskies' record book with a shot that sent the crowd roaring.
"I thought they were roaring because I made the three," Mosqueda-Lewis said about the record. "It's not something I go into the game really thinking about. It's awesome, I'm a competitive person so I definitely want to be up there with the top players but it's not something that is really in the front of my mind."
UConn's freshmen continued their outstanding play. Kia Nurse tied her season high with seven assists along with 13 points. Gabby Williams scored 11 points and had seven rebounds.
Three Mustangs, Alicia Froling, Keely Froling and Raven Short, all netted a team-high seven points.  Freshman Aurmani DeGar, who hit two shots from three-point land, posted a career-high six points.
As a team UConn forced a season-high 30 turnovers by the Mustangs (they outscored them in points off turnovers 41-6), compared to 18 made shots.
While satisfied with his team's effort, UConn coach Geno Auriemma was thrilled with Jefferson's performance.
"Since we got back from Christmas the last two practices have been really good for her," said Auriemma. "She's gotten a lot of things done, spent some time in the gym. Today was a perfect example of all the things she can provide for our team."
With the victory, Auriemma is now the all-time winningest coach (percentage leader) with a record of 888-134 (.86888), overtaking former Louisiana Tech coach Leon Barmore whose career record is 576-87 (.86878).
Monday the Huskies will host Duke in what could be the final game in their seasonal matchups (ESPN2, 9 p.m. ET).
"I've always enjoyed playing them," said Auriemma about the series.
"They're a lot bigger (than previous Duke teams)," he continued. "They may be the best offensive rebounding team in the country. Elizabeth Williams has started for four years, and that counts for a lot, but it's not the same team at all that we played last year or the year before."
"It's completely different, and they've gotten a lot better since I saw them a while back."
The Mustangs and Huskies will meet again on Jan. 11 in Dallas. SMU concludes its five-day road trip with a showdown against AAC foe Temple on Tuesday, Dec. 30, at 7 p.m. ET/6 p.m. CT, in Philadelphia.