Second half rally and bench spark from Brittany McPhee propel No. 18 Stanford to 59-47 win over Cal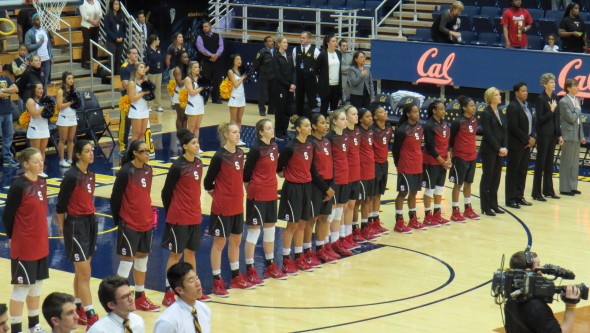 BERKELEY, Calif. – No. 18 Stanford (20-7, 12-3 Pac-12) overcame a nine-point halftime deficit to defeat Cal 59-47 in the first game of the Battle of the Bay series Wednesday night at Haas Pavilion.
"People played within themselves. They didn't try to do too much," said Stanford head coach Tara VanDerveer on her team's overall effort."
The teams entered the game tied with Arizona State for second in the Pac-12. The Cardinal now have an advantage over the Bears.
"This is a great win for us, coming in here," said VanDerveer . " I think that Cal is a tournament team. They are very talented, and I think for us our second half was really special.  We worked hard defensively, we limited them and I thought we had a great game from Brittany (McPhee)."
McPhee, a freshman guard, helped Stanford overcome tenacious defense from Cal (19-7, 11-4) with a key basket in Stanford's run at the beginning of the second half and crucial rebounds after the break.
However, Cal was in the control in the first 20 minutes after clawing back from an early nine-point deficit to tie the game up 15 all at 8:28. Within five minutes, the Bears amassed a 13-point lead and ended the half with a 32-23 advantage.
Sophomore guard Lili Thompson started Stanford off with a jumper in the second half. The Cardinal had a balanced effort in a 21-12 run to tie the game up, 44 all at 11:31. After two free throws from Thompson, Stanford never looked back. They outscored Cal 36-15 in the second half.
Overall Cal shot 27.3 percent  (15-of-55) from the floor to Stanford's 45.3 percent (24-of-53).
"You can't win a lot of games shooting 15 for 55. There's not really a way around of that," said Cal head coach Lindsay Gottlieb. "Stanford's too good to not score for long stretches of time."
Senior guard Amber Orrange paced the Cardinal with 19 points, five rebounds and four assists. Thompson added 18 points. McPhee finished with nine points and six rebounds.
"I was happy to go in the game and wanted to stay in as long as possible," said McPhee about her breakthrough game. She missed the first seven weeks of practice at the beginning of the season while recovering from a stress reaction in her foot.
McPhee was a surprise spark for Stanford.
"She really gave them a lift," said Gottlieb. "Gotta keep her off the boards, gotta match her energy."
VanDerveer commented on her comfort level in having McPhee play a lot of minutes.
"This game helped my confidence in her," said VanDerveer. "That's a huge. We want more people coming in there and being aggressive."
Sophomore guard Mercedes Jefflo led Cal with 14 points while Gabby Green tallied 10 plus three rebounds.
"I thought that it was a great environment (and) this was a great rivalry; we are just disappointed," said Gottlieb. "I think that we are way past the point of feeling good about a competitive game, feeling good about being close.  We want to win, and that's really disappointing."
Stanford now has sole possession of second place in the Pac-12 behind Oregon State (23-2, 13-1). Arizona State (22-4, 11-3) can tie the Cardinal for second if they win a Friday game at UCLA.
Representatives from three WNBA teams attended the game including
Gary Kloppenburg, assistant coach, Indiana Fever
Anne Donovan, head coach, Connecticut Sun
Mike Thibault, head coach, Washington Mystics
The two teams return to action in Palo Alto on Sunday, Feb. 22 at 1 p.m. PT in the second part of the series. The game will be televised on ESPN2.
Social Media Recap