Texas ready to face an old foe in the NCAA tourney first round after a season of overcoming injuries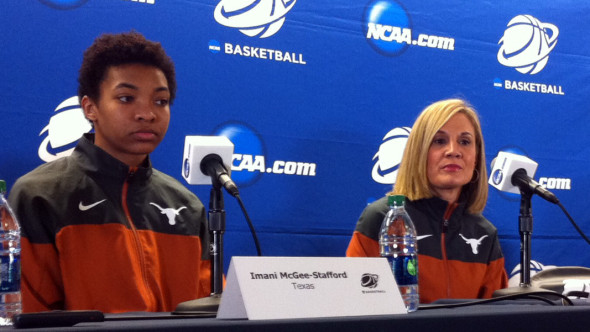 NCAA Championship – First Round
No. 5 seed Texas (22-10) vs. No. 12 seed Western Kentucky (30-4)
Friday, March 20 | 2: p.m .PT
Berkeley, Calif., Haas Pavilion
TV: ESPN2/WatchESPN – Melissa Lee (play-by-play), Mary Murphy (analyst)
Radio:

KVET 103.1 FM iHeart Austin- Craig Way (play-by-play),Kathy Harston (analyst)
After a season of signature wins, devastating injuries and a one of the best starts in team history, No. 5 seed Texas enters the NCAA tournament taking on an old foe, albeit one the program has not faced in 25 years.
Texas and No. 12 seed Western Kentucky played each other for six consecutive seasons from 1985-1990, but have not met since. The Lady Toppers won the last meeting, 56-61, on Jan. 11, 1990 in Bowling Green, Ky.
"One of our coaches has been telling me about the battles we have and what it was like to play against Western Kentucky and how fun it was to play against WKU and the rich history behind the teams playing each other," said head coach Karen Aston about facing the Lady Toppers. "I was in the league with them one year I spent at North Texas, so I'm aware of their team. Their fan base is terrific; they are a fun team to play. It should be fun."
Texas leads the series between the two teams, 6-2 and the programs are tied in NCAA tournament competition at 1-1. The Lady Toppers are the second-most common opponent for the Longhorns in NCAA postseason play, trailing only Louisiana Tech (6).
Overcoming Injuries
However, before the Longhorns earned their NCAA tournament berth, they endured season of injuries to key players.
Texas entered the 2014-15 regular season without the post presence of 6-7 junior center Imani McGee Stafford. The post player sat out of the first eight games of the season after undergoing surgery to reinforce her left tibia. The All-Big 12 First team center tallied three double-doubles in the last five games including 15 points and 10 rebounds in the conference tournament final vs. Baylor.
Big 12 All-freshman honoree, guard Ariel Atkins, missed eight games in December and January with an ankle injury, before returning to play in on January 17 vs. Texas Tech.
Two days after Atkins returned to play, the team suffered a blow when senior forward Nneka Enemkpali tore her left anterior cruciate ligament during a game vs. Baylor. The forward was leading the Big 12 conference in double-doubles and rebounds when her senior season ended.
Sophomore forward Nekia Jones suffered a left knee injury in February and has not played since.
However, despite the challenges of reshuffling the lineup after these injuries and regaining momentum, the Longhorns finished the season strong, even putting together a string of five straight wins in Big 12 play after a four-game losing streak. They reached the final of the Big 12 tournament, losing to Baylor 75-64.
Yesterday, head coach Karen Aston, McGee Stafford and Atkins talked about the effect the injuries, especially Enemkpali's ACL tear, had on the team and how they recovered.
Aston
"I think it's hard to put my finger on one thing or one person, I think having two core players, Nneka and Nekia Jones, out we had to figure out how to fill that void. It was an emotional and physical blow for our team, because we had to figure out how to produce was Nneka was producing. Once we decided she's (Nneka) was not coming back, it became a collective effort.

I don't think it was one person, I could say two or three that have stepped forward. Celina Rodrigo is playing much better than she was midseason and Brianna Taylor is someone you have to pinpoint because she was coming off the bench and had a distinct role of coming off the bench and then we were throwing her into the starting lineup. That was one thing that was difficult because at a time like the Stanford game, we had such good flow of this is how we'll start the game and how we'd move into different ways of playing based on personnel.

Everyone's roles kept changing and throughout the injury boat…we finally got to this month the last month of season, where this is who we have, and no one got hurt, and we stayed with a team that we knew could work. Imani (McGee-Stafford) feeling better and roles being established was huge, getting comfortable again for young people is a big deal."
McGee-Stafford
"Nneka going down was really hard on all of us, from the coaching staff to the players. She's a great player, and a leader on the floor and in the locker room. I think we all had to evaluate ourselves and what we could bring every day and how we could help replace her. We just had to buy in, and that took a little time for us to find out what our roles were."
Atkins
"When Nneka went down, it was hard for all of us. It wasn't just about her leaving the team but about Nneka being hurt. But, as a team we just came together and tried to fill all the grey areas because she was a huge part of our team so we just tried to stay together."
Texas Notes
Texas is making its 28th NCAA Championship appearance, including the sixth in the last seven seasons.
The Longhorns' 28 appearances in the field ranks fourth all-time. Texas has appeared the NCAA Championship field in 28 of 32 seasons, since the NCAA Women's Championship began in 1983.
Texas is a No. 5 seed for the second consecutive season and fourth time overall (3-3 record). The Longhorns are 3-0 in the first round as a No. 5 seed. Last season, Texas advanced to the NCAA Championship Second Round in College Park, Maryland — defeating No. 12 seed Penn and losing to No. 3 seed Maryland.
It is the first time Texas is opening the tournament in the Pacific Time Zone.