Cal keeps Wichita State at bay, advances to second round of NCAAs to face Texas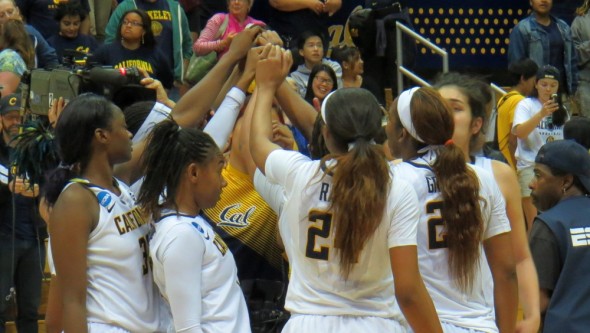 By the Numbers || Social Media Recap
BERKELEY – With rowdy hometown crowd in Haas Pavilion cheering them on, the No. 4 seed California Golden Bears (24-9) defeated a defensive-minded No. 13 Wichita State (29-5), 78-66, in the first round of the NCAA tournament Friday evening. With a balanced effort of five players in double figures, Cal held off the reigning Missouri Valley Conference champions and All-America candidate, senior guard Alex Harden.
"I will start out with a Reshanda Gray phrase and say I want to give a 'shout-out' to an unbelievable atmosphere in Haas Pavilion," said Cal coach Lindsay Gottlieb about the turnout. " Our fans were incredible, and a ton of people work behind the scenes to get a crowd like that."
While the Bears came away with a 12-point margin of victory, WSU staged a second half rally to get within four points of the Cal. Nevertheless, the hometown team was undaunted by the efforts of Harden and sophomore guard Michaela Dapprich, pulling away again to seal the deal and advance to the second round of the tournament.
"That is a really good Wichita State team, who had won 17 in a row and almost every game they played this year, and they showed why," said Gottlieb. "I thought we showed a ton of resolve, trying to find a way to be a little bit better at what we do than they are at what they do, because they are very good at what they do."
For most of the first half, the two teams stayed within five points of each other. While WSU only led during the first minute, they nipped at the heels of the Bears, pressing and capitalizing on the offensive efforts of Harden. At 7:27, it was a two point game, 12-10, with Harden scoring six of the first 10 for the Shockers.
With about five minutes to go in the half, the Bears turned up their offense and went on an 11-3 run, to go into the locker room with a 10-point lead, 37-27.
Cal extended their advantage coming out of the break, outscoring the Shockers, 10-7, to amass a 13-point lead at 15:59. However, WSU would not go away and free throws from Harden and Dapprich kept them in the mix.
After a 6-0 run in the middle of the half, Cal called a timeout at 12:20 as the Shockers were within four, 47-43. Cal went on a run of their own, to build the lead to double-digits within three minutes and never looked back. They held steady down the stretch, earning a 20-point advantage in the last minute and 20 seconds. The Shockers kept scoring though, but it was too little too late.
Cal won the rebounding battle, pulling down 38 to WSU's 27. The Bears shot 51.9 percent from the floor compared to WSU's 40.7 percent. The 78 points were the most the Shockers have allowed in a game this season.
"They did what they do well, and that's transition the ball and they took high percentage shots on us, which were in the paint, so they had 42 points in the paint," said WSU coach Jody Adams about Cal. "So you've got to compliment them on continuing to do what they do well."
The game marked the first time the Bears and the Shockers faced each other.
Pac-12 Player of the Year Reshanda Gray led the Bears with 22 points and nine rebounds. Other top performers for Cal included:
Sophomore guard Mercedes Jefflo: 14 points
Senior guard Brittany Boyd: 12 points, seven rebounds, four assists, two steals
Freshman forward Mikayla Cowling – 11 points, six rebounds, five assists
Freshman guard Gabby Green – 11 points, eight rebounds, four assists
Gottlieb praised her team for having contributions from several different players in the scoring column.
"I thought we battled, we made plays, the stat sheet looks like I want it to look, a lot of different people scoring,," she said, "and I thought it was just a really fun game, I'm happy to be one of 32 teams left standing. I'm really proud to coach this group, and I'm looking forward to the opportunity to play to get to a Sweet 16, how much fun is that?"
Harden led WSU with 22 points and nine rebounds while Dapprich added 17 points plus six rebounds. Other top performers for Wichita State include:
Alie Decker: 14 points, four rebounds
Kelsey Jacobs: Eights points, six rebounds
Cal meets #5 seed Texas Sunday at 6 p.m. PT in the Albany region. The game will be televised on ESPN 2.
The Longhorns defeated #12 Western Kentucky, 66-64 Friday afternoon. The Bears and Longhorns have met six times in history, with the last time coming at the Rainbow Wahine Showdown at Hawaii in 2012 when Texas won 61-60. Texas leads the all-time series, 4-2. It will be the first time Texas and Cal face in NCAA tournament competition.
By the Numbers