2015 WNBA draft results: Seattle tabs Jewell Loyd as No. 1 pick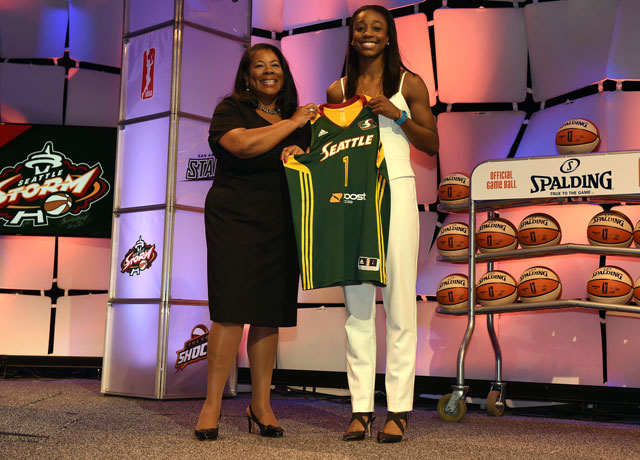 The Seattle Storm selected Notre Dame's Jewell Loyd as the No. 1 overall pick in the 2015 WNBA draft Thursday evening. Loyd became the first top pick in Fighting Irish history.
"I finally beat Skylar at something!," joked Loyd referring to former Notre Dame star and Tulsa Shock guard Skylar Diggins, the third pick of the 2013 draft.
The junior who declared her intention to enter the draft shortly after the national championship game last week is the ACC Player of the Year and espnW's 2014-15 National Player of the Year.
"It's so humbling, because there are so many good players out there that are deserving, and capable of this spot," said Loyd. "It's just so humbling and i have to give thanks to everyone who helped me get here."
The Tulsa Shock chose Stockholm, Sweden native Amanda Zahui B. of Minnesota as the second selection.
"Everything hit me once I walked off the stage," Zahui B. "I was so excited, I can't stop smiling, It feels amazing."
With their second pick of the first round, the Storm chose UConn's Kaleena Mosqueda-Lewis as the third overall selection. Mosqueda-Lewis, a native of California, is happy to play closer to home.
"I'm excited and my family is excited they'll be able to come to more games and just see me more."
She is also relishing the opportunity to play with Loyd.
"It's going to be awesome," said Mosqueda-Lewis. "I think me and Jewell are going to be a great team. I've been able to play against her all these years, but unfortunately I haven't been able to play with her."
Duke star Elizabeth Williams went fourth in the draft to the Connecticut Sun.
"I kind of figured once Kaleena went third, the likelihood of me going to Connecticut was pretty high," said Williams about her fate. "With their situation, just having an extra post in there would be really good."
Last year's No. 1 pick, Stanford grad Chiney Ogwumike, is happy to have another intellectual-oriented player with the Sun and has dubbed the squad "Nerd Nation East."
The Atlanta Dream traded Jasmine Thomas for the rights to the No. 19 Brittany Hrynko (DePaul)
The New York Liberty entered the draft with no first round draft picks. Head coach Bill Laimbeer traded two players (Alex Montgomery and Anna Cruz) to acquire No. 9 from San Antonio (Brittany Boyd) and No. 11 (Kiah Stokes).
Foreign players in the draft include No. 2 Amanda Zahui B. (Sweden), No. 24 Zofia Hruscáková (Slovakia), No. 30 Dragana Stankovic (Serbia) and No. 32 Marica Gajic (Bosnia)
After enduring two seasons of uncertainty (and a complete no-show last year) with Australian center Liz Cambage, Tulsa loaded up on big posts with 6-5 Amanda Zahui B. (Minnesota) and 6-8 Mimi Mungedi (Nevada).
2015 WNBA DRAFT – ROUND 1
1
Jewell Loyd (Notre Dame)
Seattle Storm
2
Amanda Zahui B. (Minnesota)
Tulsa Shock
3
Kaleena Mosqueda-Lewis (Connecticut)
Seattle Storm
4
Elizabeth Williams (Duke)
Connecticut Sun
5
Cheyenne Parker (MTSU)
Chicago Sky
6
Dearica Hamby (Wake Forest)
San Antonio Stars
7
Crystal Bradford (Central Michigan)
Los Angeles Sparks
8
Ally Malott (Dayton)
Washington Mystics
9
San Antonio Stars trade #9 to the New York Liberty for Alex Montgomery.NY selects Brittany Boyd (California)
New York Liberty (via trade)
10
Samantha Logic (Iowa)
Atlanta Dream
11
The Minnesota Lynx trade the 11th, 23rd and 28th picks to NY Libertyfor Anna Cruz plus the 16th & 35th picks. NY selects Kiah Stokes.
New York Liberty (via trade)
12
 Isabelle Harrison (Tennessee)
Phoenix Mercury
2015 WNBA DRAFT – ROUND 2
1 (13)
 Brianna Kiesel (Pitt)
Tulsa Shock
2 (14)
 Cierra Burdick (Tennessee)
Los Angeles Sparks
3 (15)
 Natasha Cloud (St. Joseph's)
Washington Mystics
4 (16)
 Reshanda Gray (California)
Minnesota Lynx (via trade)
5 (17)
 Betnijah Laney (Rutgers)
Chicago Sky
6 (18)
 Alex Harden (Wichita State)
Phoenix Mercury
7 (19)
 Brittany Hrynko (DePaul) – traded to Atlanta
Connecticut Sun
8 (20)
 Vicky McIntyre (Oral Roberts)
Seattle Storm
9 (21)
 Chelsea Gardner (Kansas)
Indiana Fever
10 (22)
 Aleighsa Welch (South Carolina)
Chicago Sky
11 (23)
 Amber Orrange (Stanford)
New York Liberty (via trade)
12 (24)
 Zofia Hruscáková (Slovakia)
Phoenix Mercury
2015 WNBA DRAFT – ROUND 3
1 (25)
 Mimi Mungedi (Nevada-Reno)
Tulsa Shock
2 (26)
 Nneka Enemkpali (Texas)
Seattle Storm
3 (27)
 Laurin Mincy (Maryland)
New York Liberty
4 (28)
 Michala Johnson (Wisconsin)
New York Liberty (via trade)
5 (29)
 Ariel Massengale (Tennessee)
Atlanta Dream
6 (30)
 Dragana Stankovic (Serbia)
San Antonio Stars
7 (31)
 Andrea Hoover (Dayton)
Los Angeles Sparks
8 (32)
 Marica Gajic (Bosnia)
Washington Mystics
9 (33)
  Nikki Moody (Iowa State)
San Antonio Stars
10 (34)
 Lauren Okafor (James Madison)
Atlanta Dream
11 (35)
 Shae Kelley (Minnesota)
Minnesota Lynx (via trade)
12 (36)
 Promise Amukamara (Arizona) State
Phoenix Mercury