Dishin & Swishin 04/02/15 Podcast: Doug Bruno helps break down the NCAA tournament and Final Four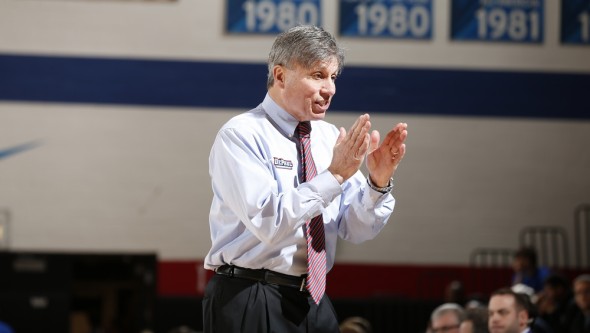 [display_podcast]
The NCAA women's basketball season nears its conclusion with the Final Four in Tampa. Sunday night. The semifinals will have overall top seed Connecticut facing Maryland in the nightcap, preceded by South Carolina playing Notre Dame. The winners meet on Tuesday evening to crown the national champion.
This is only the third time that the Final Four participants are also the four No. 1 seeds in the tournament. While this season had upsets, strong competitive games and some teams that could give a good argument for parity, not only did the top four teams make it to the end, seven of the top eight teams made the regional finals, with only Dayton crashing the party.
So, with that as a background, we are pleased to welcome you to the NCAA Final Four Dishin & Swishin podcast, featuring for the third consecutive year one of the most knowledgeable and respected coaches in the business, DePaul's Doug Bruno.
Bruno's Blue Demons were co-Big East champions this year, yet entered the tournament as a No. 9 seed. After defeating Minnesota in the first round, they fell to one of the Final Four participants, Notre Dame in the second round, the second time they played the Fighting Irish this season.
Bruno breaks down all four remaining teams, as well as discussing the state of the game, the issue with seedings in this year's tournament and more. Topics include:
Breanna Stewart and Jewell Loyd, and the many ways they impact the game
Maryland's success and their chances against UConn
What makes UConn so good, and so successful, for so long
Notre Dame's guards and posts, their impact and their success
South Carolina's success from the ground up, from Dawn Staley's ability to build a program and find success
The difficulty in transitioning from player to coach successfully
The seedings in this year's tournament, including the lack of respect given to DePaul, Seton Hall, Princeton and more
How to "fix" the out of conference scheduling and RPI issues to help improve the seeding process
Geno's press conference yesterday and his penchant for good sound bites come tournament time
A fascinating look into the women's basketball season as it concludes with a man who has coached successfully for years, has been president of the Women's Basketball Coaches Association and is current chair of their All-American committee, as well as assistant coach of the USA women's national senior team.
Enjoy the podcast!