Dishin & Swishin 4/15/15 Podcast: Chiney Ogwumike reflects on the Draft Experience & first year in the WNBA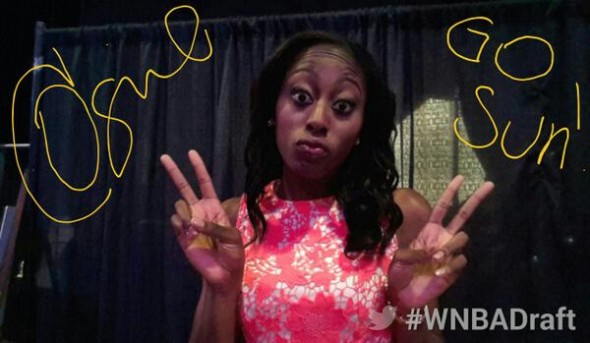 [display_podcast]
On Thursday night the pro basketball destiny of 36 young women will begin, as the WNBA presents their annual draft. The Seattle Storm hold the No. 1 and No. 3 picks while the Tulsa Shock has the second pick.
What seemed like a pretty light draft got considerably more interesting what the inclusion of underclassmen Jewell Loyd of Notre Dame and Amanda Zahui B. of Minnesota. While obviously this pleased Seattle and Tulsa, Connecticut at number four, the Chicago Sky at number five and perhaps the San Antonio Stars at six will now have an opportunity to get a top choice that would not have fallen to them before. Who will that be? Kaleena Mosqueda-Lewis? Elizabeth Williams? Dearica Hamby? We will have to wait until Thursday to find out.
What is the draft day experience and first year in the league like for these young women entering the pros? As of late last week they were student-athletes, with their days planned out and their travel fairly easy. Now they are professionals, responsible for their own lives. It can be quite a shock if they are not prepared do not have mentoring.
Last year's top choice, Chiney Ogwumike of the Connecticut Sun, joins the podcast this week to talk about her experiences. Do coaches and general managers call and give you an idea of their plans? How many meetings, on what topics, and training does the league give the invited rookies-to-be? Is there time to bond with the other invitees? Once the draft is over, and you join your team, what is that like?
Ogwumike gives an insightful look into what her experience was like, and some thoughts on the good and bad that face this year's group.
Of course, the future of the Sun, her own knee injury and recovery, and what she expects for the future were discussed as well.
Thursday should be a fun night with this year's WNBA draft! Until then, enjoy the podcast.