Getting to the know the WNBA draftees: Five questions with Aleighsa Welch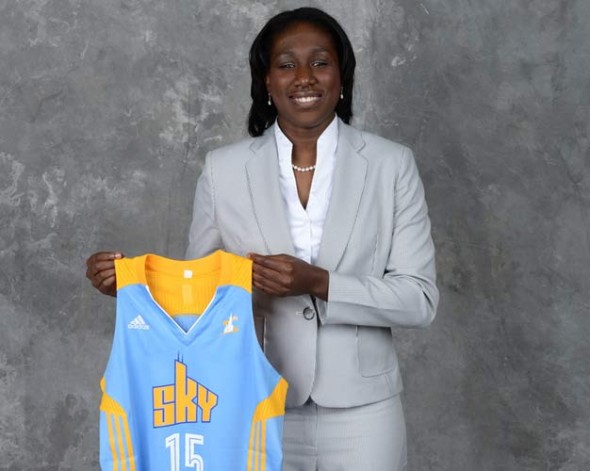 The Chicago Sky selected South Carolina's Aleighsa Welch as the 22nd overall pick in the second round of the 2015 WNBA Draft last week. She became the fifth Gamecock all-time to be selected and the first of head coach Dawn Staley's South Carolina players to be taken in the WNBA Draft
Welch completed her college tenure as the program's top career offensive rebounder and one of just four Gamecocks all-time to record at least 1,000 points and 900 rebounds in her career. She is a three-time All-SEC selection, including first-team honors in 2014 and 2015, and was the 2015 SEC Scholar-Athlete of the Year.
What is the biggest contribution you can make to the Sky?
I think intangibles. I think any time you are dealing with a championship caliber team, there are a lot of things that they do really well.  When you look at it, you just have to find your way, no matter if that's a hustle play, or anything else.  I'll go for every offensive rebound, no matter what and I think every team looks for someone like that. I just want to do the little things, and contribute all that I can.
You were the first ones to sign on with coach Staley when she joined South Carolina. To see where the program is now, what does that mean to you?
It's amazing, it really is. When it comes to my journey, it was hard choosing South Carolina, and buying into that vision, I couldn't be more thankful and more grateful for what coach Staley was able to do for me, and I couldn't be more happy for her, and to have her sitting at my draft table, on draft night, means the world to me, because the same woman who sat in my living room, trying to get me to come to South Carolina is the same person with me when I walked to the stage when I was drafted. I owe so much of my success to her, and I really feel I'm in debt to coach Staley.
You are the first South Carolina player to go in the WNBA draft, what do you say?
Thankful, I'm very thankful, and like I said, I feel I owe coach Staley a great deal. She put me in a really great position, I believed in her, and now I'm sitting here on my draft night saying I was drafted by the Chicago Sky.
Did coach have any suggestions for transitioning to the pros?
She told me don't lose what you have done well; don't lose the hustle, don't lose the heart, but also improve on the things you need to improve and come in with that mindset. Don't be afraid, come into training camp knowing you are competing. Depending on the position I play, I know (I need to improve) ball handling, face up game, outside shot, obviously, my free throw shooting is something I need to improve on, and I'm very aware of it. I think I'm my biggest critic.
Do you think the fact you are a bit of a tweener in size had anything to do with you sliding a bit in the draft?
Definitely. I always say I wish I was 6-2, I think things might be a little different. I am thankful though, and I believe everything happens for a reason, and I live for the moment, and I also know I play bigger than six feet tall. I also know that what you see on paper doesn't describe all that I bring on the court, and that's what people will respect.
The Sky has a lot of talented players on their roster; Elena Delle Donne, Cappie Pondexter and more. It sounds like a great spot for someone that is heavy on intangibles and does not worry about stats.
I think it's perfect. They drafted me for a reason, they saw something in me that they feel I can bring to the team, and I see something that I can bring to the team, because you're going from a senior, an  established leader on a final four team to a rookie on a contending team, so intangibles, they're big. Intangibles is who I am.