Part 2: Coaches help to #BreakTheStigma around depression and suicide: "Nobody really knows…"
Last week, we posted the first essay in a series focusing on mental health awareness, depression and suicide organized by University of Florida assistant coach Shimmy Gray-Miller and cross-posted on her website. This week's essay provides insight into what it is like for a student-athlete in a premier program to deal with depression.
Entry 2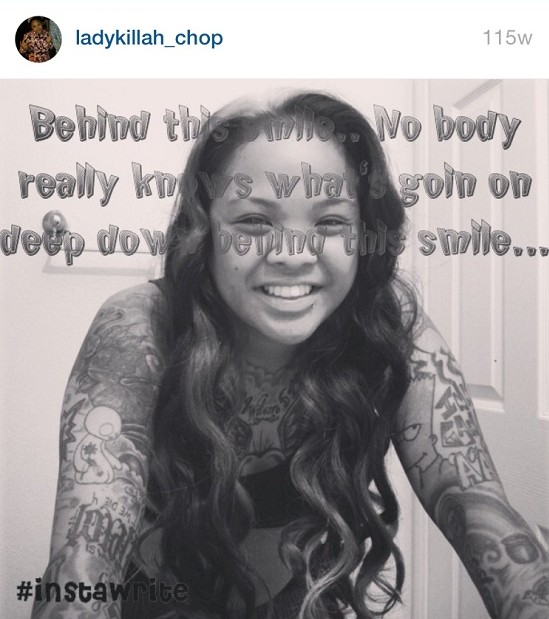 The response and reaction to our first post of our "You Just Never Know" series has been overwhelming and unexpected. The goal was to reach someone, anyone. Based on the number of tweets, re-tweets, and texts I've received this past week, we've reached many. So let's keep it going. We're in the student-athlete business. Without them, there would be no us. Meet one of them….or someone that used to be one of them. And listen to what she has to say….please.
-SGM
Meet Meghin…
Behind the Smile
by Meghin Williams
If you are in crisis
Call the toll-free National Suicide Prevention Lifeline at 1-800-273-TALK (8255), available 24 hours a day, 7 days a week. The service is available to anyone. All calls are confidential.
suicidepreventionlifeline.org
On Friday May 8, I received a phone call that my childhood friend Adrienne attempted suicide. I sat in silence. No words, no deep breaths, no tears, I just sat. When the silence over the phone cleared, (five seconds that felt like five minutes), I asked "How?" The response: "She hung herself with an extension cord." Simply put, easily understood, no further questioning needed.
I was told she was in the hospital, on life support. Over 250 people visited her to say their imminent goodbyes. By midnight she was gone. It was no longer a suicide attempt. It was an actual suicide.
I made a few phone calls but still, not one tear. Just me relaying the message in the same cold fashion that it was relayed to me. When all calls were made, I took a deep breath of fresh air, and just sat.
The questions on everyone's mind: "Why? How could she do this? Did she not see how loved she was?" These people had never experienced depression. I have.
For those of you that have never dealt with depression, let me give you an idea of what it's like. Imagine digging a hole eight feet deep. I say eight feet because six feet is death and you feel lower than that. The hole is just big enough to fit you. Now imagine seeing no light, you're alone, in darkness and silence. The people walking by can't hear or see you and they step over the hole as if you are invisible. It is dark, lonely and suffocating. The world keeps spinning, people keep moving, daily tasks keep getting checked off of lists; you don't scream for help because you don't want any. You just want to sit in your hole, until it's over.
Now imagine that depression as a scholarship athlete. That was my sophomore year of college.
I had come from sunny California to "the good life" of Nebraska. I was injured, homesick, struggling in the classroom, and it was the first time in my life that I considered myself below average. I was in the hole and didn't know it. Coaches wondered "what happened to the girl we recruited," there were many sit down talks of "Meghin you have to do better, if you don't we can't keep you here." What they didn't see was that I didn't know how to do better. I didn't know how to pull myself up.
The summer of my sophomore year, coach Sunny Smallwood threw me a shovel. She had spent a lot of time recruiting me and knew that the person I was that year was not me. She invested in me. We read books and created concepts that helped me get through my daily routine. I started meeting with a counselor. Week by week, I climbed out of the hole. Week by week, I beat depression.
I did not lose my friend to suicide, I lost her to depression. I did not lose her to a choice that she made, I lost her because she felt she had no choice. Two years ago she posted a black and white selfie on Instagram. The caption read: "Nobody really knows what's going on deep down behind the smile." Depression is real. Whether you spend a week or two years in the hole, it is real.
For those that are depressed know that you have purpose, and every morning you are given the opportunity to find your purpose. Talk to someone; a friend, a family member, a stranger, anyone. "Sometimes getting the wind knocked out of you is the only way to remind your lungs how much they like the taste of air."
For those that know someone who is going through depression – don't ignore the signs! The canceled plans from someone who is normally reliable. The unfamiliar silence from the usual life of the party. The Instagram post with cryptic interpretations. Ask questions and listen. Do not offer solutions. Offer love and support.
For those grieving a suicide, don't waste your time with "why's" and "what if's." You will drive yourself insane. Focus on positive memories and be a bridge for opening dialogue about depression, suicide, and loss. Find comfort in the air of your own lungs.