WNBA veteran Katie Douglas to retire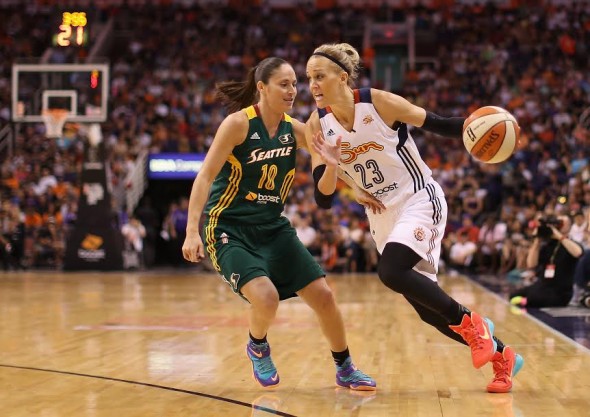 After 14 years in the WNBA, Connecticut Sun veteran Katie Douglas is retiring. Beset by a back injury, the dynamic guard/forward called it quits today.
"This was a very difficult decision for me because basketball has been such a big part of my life, but I believe I am making the right choice," she said in a statement. "My back has not responded to treatment the way I hoped it would. I have no expectation that I would be able to play at a level that is acceptable to me, so rather than compete as a shell of myself, I am choosing to retire."
The Indiana native helped lead Purdue to an NCAA championship as a sophomore in 1999. The left-handed backcourt player joined former teammate and current Indiana Fever coach Stephanie White on the 1999 NCAA All-tournament team.
"There isn't much she didn't accomplish on the court," said White. "It was thrilling for me to win a championship with her in college and WNBA. As a friend, I hate to see her end her career because of injury, but her health and well-being are top priority. No matter what she chooses to pursue, I know she will be a success and I certainly wish her the best."
Douglas managed to play stellar basketball in the midst of tragedy. She lost both of her parents to cancer, her father in 1997 and her mother in 2000. The V Foundation for Cancer Research awarded her its first ever Comeback Award in 2001.
She began her professional career as the tenth overall pick in the 2001 WNBA Draft, joining the Orlando Miracle for two years. When the team relocated to Connecticut and changed its name to the Sun in 2003 under new owners, Douglas remained with the franchise for five years.  She helped the Sun reach two WNBA Finals and four Eastern Conference Finals.
The Sun traded Douglas to the Fever in February 2008. She averaged 15.4 points per game during six seasons in Indiana, starting in all 166 games she appeared. She had a career-high 80 made three-pointers during the 2012 season, and made a career-best 119 free throws during the 2008 season.
Although she helped Indiana reach the WNBA Finals in 2012, an ankle injury prevented her from playing over a minute in the championship series that the Fever won. She had ankle surgery after that season to remove a bone chip and repair a torn tendon. Problems with her back became an issue in 2013 and she only played in four games that summer. She underwent back surgery in late 2013.
As a free agent in 2014, the Fever refused to match the Sun's contract for a maximum salary for the veteran. She left the Fever to return to the Sun in the spring of 2014 with a two-year contract.
"It was a pleasure to have Katie with us last season," said Sun head coach Anne Donovan. "She became an integral part of our team in such a short period of time. Aside from her trademark three-point shooting prowess, KT logged the most minutes of any player. That attests to her toughness and to her importance to our team."
Continued problems with her back prevented Douglas from playing the Sun's last two games of the season. She has not been on the court since the end of last summer the Sun indicated on WNBA draft day a few weeks ago.
"I know this is not how KT wanted to leave the game, but she made a significant contribution to the Connecticut Sun and our fans," said Sun vice president Chris Sienko. "It is amazing the impact a single player can have on an organization and her spirit, competitiveness and humor will be hard to replace."
Honors
College (1998-2001):
1999 NCAA All-tournament team
2000 Kodak All-American
Big Ten Player of the Year (media)
Big Ten All-Tournament team
2001 NCAA All-tournament team
2015 Class, Purdue Intercollegiate Athletics Hall of Fame
USA:
1999 World University Games, USA leading scorer
Pro:
Five-time WNBA All-Star
Five-time member of the WNBA All-Defensive Team
Ranks fourth in WNBA history in career steals (623)
Ranks fifth in WNBA history in made threes (727)
Ranks eight in scoring (5,563 points)
Ranks 11th in made field goals (1,926)
Ranks 14th in assists (1,075)
First player in WNBA history to surpass 500 steals and 500 made threes
All-time leader in Sun history in made threes (383)
Finishes career ranked fourth in Sun history in points(2,999), assists (605) and made field goals (1,027)
Orlando Miracle (2001–2002)
Connecticut Sun (2003–2007)
Indiana Fever (2008–2014)
Connecticut Sun (2014–2015)