Dishin & Swishin 6/18/15 Podcast: Are the Connecticut Sun the best story of the early WNBA season?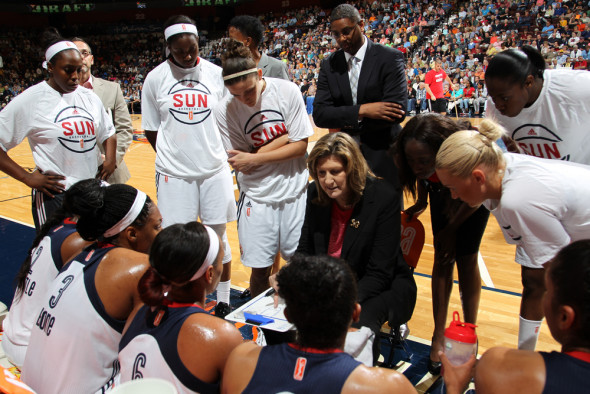 [display_podcast]
Click here to subscribe to the podcast with your feed reader or podcast app: j.mp/dishinpodcast. Available on iTunes, Player FM, Acast (iOS, Android) and Podcast Addict (Android).
They heard the pundits. They heard the experts saying there was no way the Connecticut Sun would contend for the playoffs, having lost Katie Douglas to retirement, waving injured sixth person Kelsey Griffin, suspending injured guard Alison Hightower, and announcing that Chiney Ogwumike, the 2014 Rookie of the Year, would miss the season recovering from micro-fracture knee surgery. Make way for the lottery, those people said, maybe Breanna Stewart would stay in Connecticut when she turned pro.
A funny thing happened though, the players, the coaches, and management did not believe what they heard.
After an opening night loss, coach Anne Donovan said, "Overall we are a work in progress and I believe in this team. I believe in the leadership of this team. We're doing great things and we're going to get there."
While it is early in the season, Donovan certainly appears to be right, at least after five games. The 4-1  Sun are in first place in the Eastern Conference, their only loss being that opening night game with Washington. This with a team that has Kelly Faris as their player with the longest time in Connecticut, and she is just starting her third season.
Donovan joins Dishin & Swishin this week in the midst of the Sun's first west coast swing. They defeated Seattle already this week, and will play the Phoenix Mercury Friday night.
There is talent on this Sun team, no question, but to pull together and form a cohesive unit with five of eleven active players being new to the team is another matter altogether. Two of those new players, experienced veterans forward Camille Little and guard Jasmine Thomas have led the way, and were named team co-captains for their leadership skills.
Little, a true stretch four, has the range on her shot to open things up for center Kelsey Bone, who came to the Sun last year as part of the trade that sent Tina Charles to New York, where she is thriving, averaging over three points per game higher than last year. The "other" part of the Charles trade was the draft pick bringing Alyssa Thomas, the multi-talented forward that presents match up difficulties for opponents with her ability to bang inside and handle the ball outside.
Adding Thomas for a first round draft choice that was cut two days later by the Atlanta Dream has been a master stroke on several levels. Thomas is averaging career highs in points, assists, and steals. Her ability to play point guard allows Alex Bentley to focus on being the scorer she can be, and she is playing like an All-Star, averaging 14 points per game and hitting key shots throughout the first five games. Thomas is also a mentor for rookie Chelsea Gray, who was drafted injured last season with a pick acquired from Los Angeles for Sandrine Gruda, who was not going to play for the Sun. Gray is showing flashes of potential greatness in limited time, as Thomas' solid play has allowed Donovan to ease the rookie in slowly.
You will have to excuse her, if Donovan sounds a little bit giddy about this season's success.
Connecticut fans love their UConn Huskies, and Donovan has caught flack with the departure of former Husky favorites like Charles, Asjha Jones, Renee Montgomery, and Kalana Greene, plus the limited playing time of Faris. She caught lack for trading Kara Lawson, who had become a fan favorite, for the unproven Bentley.
However, hindsight is a beautiful thing. Look at the net results of the trades the Sun management team of general manager Chris Sienko and Donovan made:
GONE:
Tina Charles, Kara Lawson, Draft pick to Atlanta (Brittany Hyrenko, waived two days after trade), Sandrine Gruda (not in league), Renee Montgomery, Draft pick to Seattle (became Kaleena Mosqueda-Lewis)
ARRIVED:
Kelsey Bone, Alyssa Thomas, Alex Bentley, Jasmine Thomas, Chelsea Gray, Camille Little, and Shekinna Stricklen
To summarize, that is three players gone that were in the rotation, in exchange for seven rotation players on this year's team. Sounds like a pretty good exchange.
Donovan discusses this year's team, the pressure on her to succeed, the changes in the Eastern Conference, her strong stance on the Isiah Thomas hiring in New York, and once and for all, does she not want UConn players on her team or does she?
Enjoy the podcast and don't forget, you can find us now on iTunes too!