Dishin & Swishin 6/25/15 Podcast: Veteran Plenette Pierson making a difference in surging Tulsa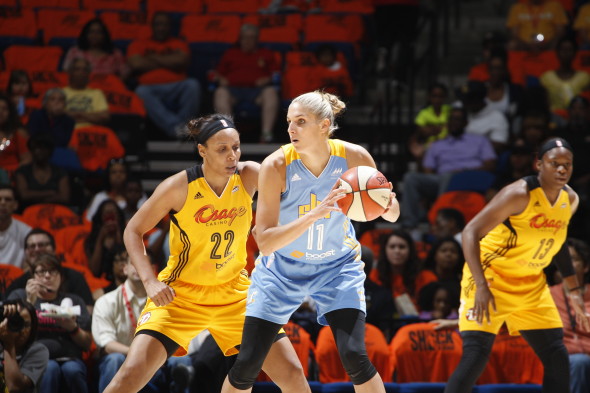 [display_podcast]
Click here to subscribe to the podcast with your feed reader or podcast app: j.mp/dishinpodcast. Available on iTunes, Player FM, Acast (iOS, Android) and Podcast Addict (Android).
Youth must be served is a quote often used to describe the determination, the drive, the passion young people have to take over and dominate the situation they enter.
One could argue this applies to the WNBA. Elena Delle Donne, Skylar Diggins, Alyssa Thomas, and Emma Meesseman are just a few of the talented young players helping to make their teams contenders this season.
Youth is wasted on the young is another frequently uttered quote. This also, however, can be applied to the WNBA, as teams with talented young players are looking for veterans, with experience and leadership, to be the piece of the puzzle that pushes their young teams into playoff contention.
Look at the top four teams in the WNBA: Connecticut and Washington in the East, Tulsa and Minnesota in the West. Okay, take Minnesota out of the discussion because any team with four Olympians on their roster should be a contender. However, Chicago is next in the East, and they can be added to the conversation.
Each of these teams are led statistically by extremely talented young players. Thomas, Kelsey Bone and Alex Bentley in Connecticut. Meesseman, Bria Hartley and Stefanie Dolson in Washington. Skylar Diggins and Odyssey Sims in Tulsa. Delle Donne and Courtney Vandersloot in Chicago.
Each team also added a veteran leader to school the youngsters on and off the court on the ways to succeed in the game. Connecticut added Jasmine Thomas and Camille Little, Washington has Kara Lawson, Chicago traded young star Epiphanny Prince for veteran Cappie Pondexter, and in Tulsa, the Shock added Karima Christmas and Plenette Pierson.
Each are performing well on the court as well, however, their coaches talk about the leadership and presence each brings to their team. Sun coach Anne Donovan in particular talks often about Little and Thomas and their impact on the team.
However it is Pierson in Tulsa making perhaps the biggest impact. The thirteen-year veteran is averaging career highs in minutes per game 28), and points per game (15.3). After dropping their first game of the season to Minnesota, Tulsa is now 6-1 and on top of the Western Conference. This despite losing Sims for the last four games with a knee injury. After several years of missteps associated with the move to Tulsa, under Fred Williams the Shock franchise is again one to be reckoned with.
The Shock have reduced their turnovers, and improved their defense and rebounding, both traits associated with Pierson. She has a versatile offensive game that allows her to battle in the low post or step outside, which fits very well beside center Courtney Paris' rebounding dominance.
Pierson is the guest on this week's Dishin & Swishin podcast. Always candid, Pierson talked about:
The decision to return to Tulsa after leaving the Shock five years ago
Williams' coaching style as compared to her former coach in Detroit and New York, Bill Laimbeer
The great backcourt of Diggins, Sims, and Riquna Wiliams, and how they compare to previous guards she teamed with, including Deanna Nolan, Elaine Powell and Katie Smith in Detroit.
Will Tulsa continue to thrive and become a playoff team this year? It is certainly a compelling story line to watch as the WNBA season continues.
Enjoy the podcast!