Stefanie Dolson shines as Mystics open the season with 73-68 victory over Connecticut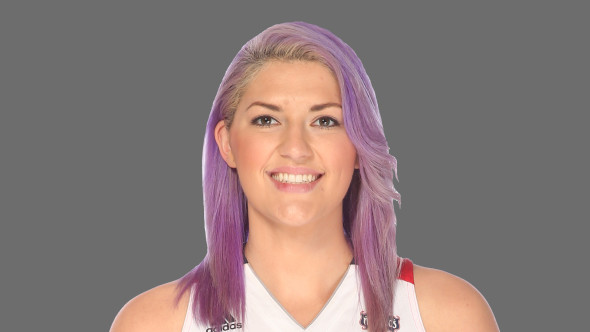 UNCASVILLE, Conn. – Former UConn Husky Stefanie Dolson received a loud ovation from the Connecticut Sun faithful, then sent the Sun fans home disappointed after she earned career highs in points and rebounds in leading her Washington Mystics to an opening night 73-68 victory in front of 5,846 fans.
"It's always great to come back to Connecticut and play for these fans even though I'm playing for Washington," said Dolson.
Mystics head coach Mike Thibault said that Dolson was "up and down" in training camp, but with Kia Vaughn injured and unavailable, Dolson got the start and rewarded the coach with 18 points and 12 rebounds. Mystics guards Ivory Latta and Kara Lawson scored 15 and 10 points respectively, hitting all nine of their free throw attempts in the fourth quarter to help ice the game.
Washington starting guard Bria Hartley was also unavailable with a stress fracture in her foot, putting the burden on the two veteran guards, and they were outstanding in their roles. After Connecticut's Alex Bentley scored 15 points in the first half, Lawson in particular helped change the defensive mindset of the Mystics, shutting down Bentley's offense, only allowing her two free throws in the entire second half.
"We are a work in progress," Sun coach Anne Donovan said repeatedly during the post game press conference. "At this point we're looking for positives. It's the first game of the season, we got a long season to go."
Positives came in not only Bentley's first half performance, but also a strong inside game by center Kelsey Bone. The Sun announced Chiney Ogwumike will sit out the entire season, so Bone assumes a great deal more pressure to perform on both ends of the court. Against Washington, Bone scored 14 points and added six rebounds.
Camille Little, making her Sun debut after an offseason acquisition from Seattle, struggled with her shooting, hitting 4-of-13 shots on her way to nine points. Alyssa Thomas added 13 points and seven rebounds, but on the last play of the game seemed to injure her right hip. No details are available at this time.
| Final | 1 | 2 | 3 | 4 | TOT |
| --- | --- | --- | --- | --- | --- |
| Mystics | 18 | 26 | 13 | 16 | 73 |
| Sun | 24 | 16 | 13 | 15 | 68 |
Officials: #8 Daryl Humphrey, #39 Michael Price, #57 Donald Hudson
Attendance: 5,846
Points in the Paint: Mystics 24, Sun 34
Second Chance Points: Mystics 18, Sun 16
Fastbreak Points: Mystics 2, Sun 12
Biggest Lead: Mystics 12, Sun 8
Lead Changes: 12
Times Tied: 7