2015 All-Star weekend: Tulsa Shock move to Dallas is the buzz, players voice their opinions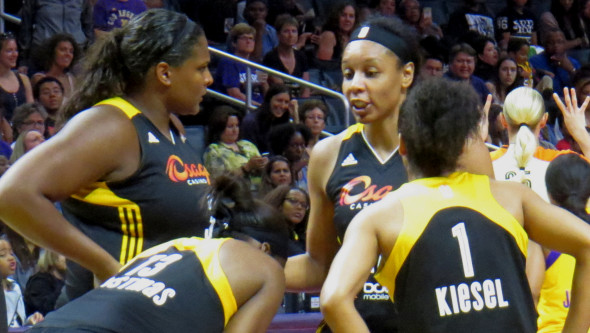 UNCASVILLE, Conn. –  As the best in the WNBA gather for the 2015 All-Star game, the surprising announcement of the Tulsa Shock moving to Dallas-Fort Worth (specifically Arlington) next year was the big news. This past Monday, the league's owners unanimously approved a request by the majority owners of the Shock to move the team to North Texas.
In general, the players understand the motive of the franchise ownership, and support the potential the move has for success.
"I have mixed emotions," Tamika Catchings said. "This is the first year they have had a strong team, and it's unfortunate that the city has been able over the years to see a strong team like they are now. However, when you look at the difference between a Tulsa and a Dallas, more coverage, more sponsors, hopefully, more spectators and fans, that's what you need to look at from a business standpoint too, growing the game of women's basketball."
Catchings smiled and added, "Being from Duncanville, Texas and my mom still living there, of course a lot of my family is there so it will be fun to play in front of them."
New York Liberty center Tina Charles is looking forward to the move.
"I think it's a good move and it will be good for the city of Dallas, a big sports city," Charles said. "I'm sure the girls will be happy, a lot more to do there. I'd definitely rather go to Dallas as a visiting player."
Kayla McBride and Danielle Robinson of the San Antonio Stars are looking forward to an in-state rivalry with the Dallas franchise.
"It's going to be cool," McBride said, "I think it's a big step for us, and as a league because I think Dallas will be bring a lot more fans. It's going to be great. I know I'm excited, Dallas is a fun city, and it will be fun."
Robinson echoed that thought. "It's going to be awesome, same state as the Shock, with Skylar [Diggins] and Odyssey [Sims]. I love it."
Seattle Storm veteran guard Sue Bird understands the business side of the move, and is looking forward to it personally.
"I've never been to Dallas," Bird said, "Just flown in and driven to a game, never spent time in the city, so that excites me. From a basketball standpoint I assume being in a bigger city is just better; it's kind of where we're at. Unless you're in a place like we are now [Connecticut] which has a huge following, so I'm all for it."
Maya Moore is one of the faces of the league, hasn't thought too much about it yet with her focus on the Lynx, but said, "if there is a city that wants a WNBA team, then let's do it! It's a great area for sports, with a basketball history with the Mavericks, so I have to think it's going to be good for the league."
Thoughts from the league president on the move
In a pre-game press conference, league president Laurel Richie expressed excitement at the move while acknowledging that loyal fans in Tulsa are upset and praised them for their support.
"I would be remiss if I didn't genuinely thank the people of Tulsa who have been supportive of that team in the time that it's been in Tulsa," said Richie. "And we'll see, they may be rewarded with their first appearance in the postseason."
In response to a question about how the move might affect players, Richie gave some clues as to the thought process of Shock stakeholders, including majority owner Bill Cameron, and the league front office.
"The last thing we want to do at any point in time, in any initiative, is be disruptive to players, coaches and our fans," said Richie. "Part of this process, and I don't want to go through too much of the detail, but it was apparent, I think to Bill Cameron and his team that as they were having these discussions, news of their consideration and their ultimate decision might get out. So we collectively felt that it was important for the team to hear it very directly from the ownership group. So, yes, we considered it and did it, in fact, because we were very conscious of the impact that it would have."
She revealed no concrete details as to the timetable of when discussions to move the team to the Dallas area began and how long the league knew Cameron had plans in the works when asked questions to shed light on the relocation process.
"I don't want to speak too much for Bill," said Richie. "I know that it is something that he thought about and thought about very carefully being from Oklahoma himself and very proud to be from the state of Oklahoma. We've had some initial conversations when it was an early thought. But until the formal recommendation or formal request comes through to us, that's the moment where we, as a league, and the board of governors take action."