Dishin & Swishin 7/09/15 Podcast: Mike Thibault hopes Mystics' blend of youth and veterans will take the WNBA Eastern Conference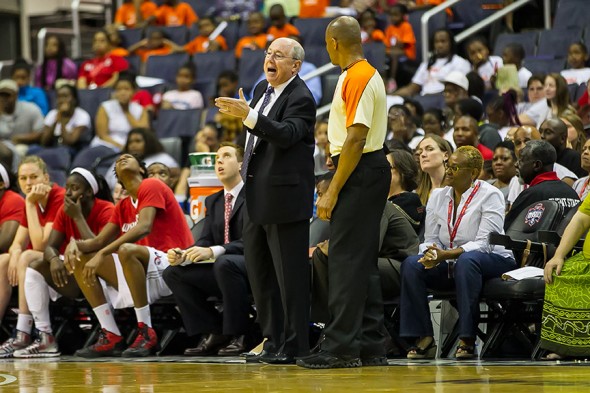 [display_podcast]
Click here to subscribe to the podcast with your feed reader or podcast app: j.mp/dishinpodcast. Available on iTunes, Player FM, Acast (iOS, Android) and Podcast Addict (Android).
Mike Thibault is a coach that never shied away from youth. In Connecticut, his Sun team traded established point guard Shannon Johnson to take a chance on a rookie named Lindsay Whalen. He gave minutes, with success, to young players like Le'Coe Willingham, Jessica Brungo, and Candice Futrell. In his final season at the helm of the Sun, Thibault had a young team with veterans sprinkled in, and that mix landed him one game from the WNBA finals.
In Washington, chef Thibault is mixing a similar concoction. Start with young and talented posts, add in youth on the wings, and season with experienced veterans who know what it takes to win. The final product, he hopes, will be another playoff appearance and a shot at a WNBA title.
In a conference where three games separates all six teams, Washington is in the thick of things, despite injuries that have cost the team the service of center Kia Vaughn and guard Bria Hartley for virtually the entire season, plus many more. In fact, only six players have played in all of the team's games this season.
As they start to get healthy though, the Mystics are building some momentum. Hartley played in today's early matinée against New York and Vaughn should be back next week. The team made a bold move this week, adding LaToya Sanders, whose rights they have held since before Thibault arrived.
The addition is part of that master plan of Thibault; mixing vets and young players. Rising stars Emma Meesseman and Stefanie Dolson are putting up numbers worthy of All-Star consideration in the post. Belgian Meesseman is averaging 14.9 points per game on the season, while Dolson averages 11.6 per game; both average over seven rebounds as well. Rookies Ally Malott and Natasha Cloud, and third-year players Tayler Hill and Tierra Ruffin-Pratt are contributing from the wings and adding depth.
So while the posts are dominating the stat sheet, Thibualt has a backcourt of Ivory Latta and Kara Lawson; two virtual coaches on the floor, as well as Armintie Harrington, who joined the Mystics as a free agent this season. Adding Sanders to the mix is just another veteran addition as part of Thibault's plan, or recipe, for success.
Is there enough time to get everyone healthy and working together as a cohesive unit? That is to be determined but there is no denying that the winningest coach in WNBA history will continue to tinker and work on finding the perfect mix.
Enjoy the podcast!