Dishin & Swishin 7/16/15 Podcast: After slow start, Pokey Chatman's Chicago Sky reclaim the lead in the East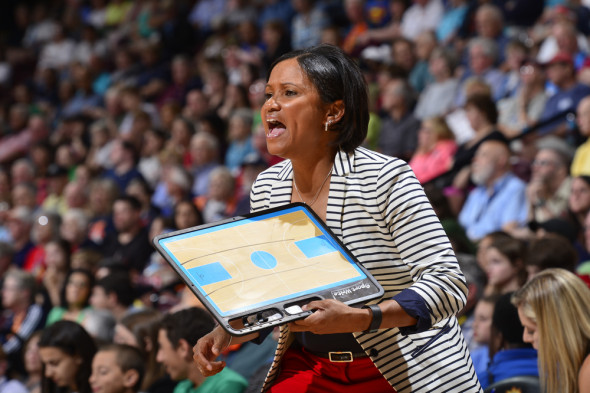 [display_podcast]
Click here to subscribe to the podcast with your feed reader or podcast app: j.mp/dishinpodcast. Available on iTunes, Player FM, Acast (iOS, Android) and Podcast Addict (Android).
Last season the Chicago Sky were the Eastern Conference representatives in the WNBA finals, falling to champion Phoenix. It was a pretty young team, led by second year forward Elena Delle Donne, who was battling multiple health issues, guard Epiphanny Prince, who sat out the beginning of the season with burn out after a difficult Russian season, and center Sylvia Fowles, one of the better centers in the league. They were handled by the Mercury in the finals, but all signs pointed to a return this season.
If there is one thing that WNBA teams repeatedly show, nothing is as it seems, and nothing can be taken for granted. Fowles is sitting out the season after demanding a trade that the Sky has been unable or unwilling to provide. Prince was jettisoned to New York, returning the unhappy guard to her home area and bringing to Chicago, Windy City native Cappie Pondexter, a guard five years older than Prince, who many thought had her best days behind her. Sixth Woman of theYear Allie Quigley missed games early in the season to play for her adopted country of Hungary in the FIBA European championships.
After opening the season at home with a 95-72 win over Indiana, the Sky went on a five game road trip, and a stretch of 8-of-10 games on the road. They persevered, and after winning three in a row over then conference leaders Minnesota and Connecticut (twice), Chicago sits again atop the Eastern Conference of the WNBA.
Coach Pokey Chatman of the Chicago Sky joins Dishin & Swishin this week, to discuss the success of her team.
A healthy Delle Donne leads the team, who is off to one of the greatest starts in WNBA history. She is scoring at a prolific 25.8 points per game clip, but is also averaging just under ten rebounds per game, helping fill the gap in the middle opened by Fowles' absence. Her amazing 45-point performance against Atlanta was one of the high points of the season to date.
Back home in Chicago, and under a coach that is allowing her to score freely and not be as much of a distributor, Pondexter has been rejuvenated, and is an MVP candidate in her own right. After a subpar season by her standards in New York, Pondexter is averaging almost 18 points per game, including a season high 29 on ridiculous 11-14 shooting versus Connecticut.
Without a natural center in the regular rotation, Chatman has often gone to a lineup featuring four perimeter players: Delle Donne, Pondexter, Quiley and Courtney Vandersloot. The flexibility and skills of this group allows Chatman to make changes and give different look without calling a time out; she can put the ball in any of their hands, and spread the floor to set up shots for one or all of them.
Still, every team needs some size to rebound and defend the post, and the Sky are no exception. They have used a multitude of players in the fourth and fifth starter spots; nine of twelve roster players have started one game this year. Jessica Breland is healthy again, and getting good minutes, and Brazilian Clarissa Dos Santos started the last couple of games. Two other rookies, Betnijah Laney and Cheyenne Parker, plus center Sasha Goodlett complete the rotation. Chatman admits it is a work in process, but if they keep producing as they are, the Sky may be able to get by with the by committee approach.
Can the Sky continue to move up in the Eastern Division and take control? Will Delle Donne, averaging almost 35 minutes per game be able to continue this pace (she has never played a complete season without missing time for injury or illness)? Will the fountain of youth continue to flow for Pondexter? Will one post take control of the rotation and get the bulk of the minutes?
There is a long way to go, and time to find out, but Pokey Chatman is pushing the right buttons for now.
Enjoy the podcast!