Kizer keeps Indiana winning, leads team in 88-65 rout of Seattle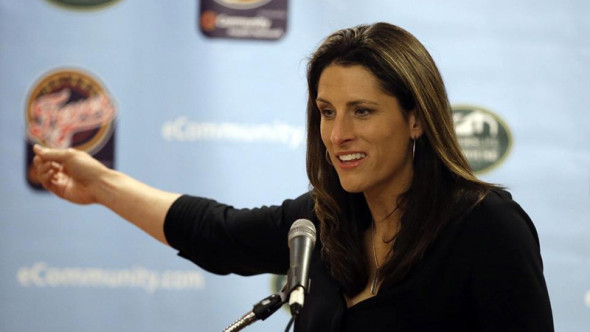 Indiana (6-6) continued a streak, winning a third straight game in taking down Seattle 88-65 Wednesday afternoon. The Storm (3-10) dropped the finale of its three-game road trip.
Seattle fell behind early 17-6 in the first quarter with nine points coming from Indiana's Marissa Coleman. They fought back but never regained control of the game. At the half the Fever had a 53-35 lead.
Lynetta Kizer led the Fever with 17 points, her highest scoring total in her two-year career with Indiana. She shot a season-best 7-for-10 from the field and a tied a season high with six rebounds in 19 minutes off the bench. Marissa Coleman added 15 points and tied her season-high with seven field goals on 15 attempts.
Rookie Jewell Loyd led the Storm with 15 points off the bench for her fourth double-figure scoring game in the last five outings.
Seattle returns home to take on Phoenix at KeyArena on Friday as the first game of a doubleheader with the Seattle Pro-Am. The Fever host San Antonio on the same day.
Notes
A crowd of 12,189 attended the game, the 10th largest regular season crowd in franchise history and the highest total since August 23, 2003 (13,093 vs. Cleveland).
The Fever forced a season-high 24 turnovers, posted their highest scoring total at home this season and tied their largest margin of victory as they rolled to an 88-65 victory over the Seattle Storm.
Indiana made a season-high 36 field goals and shot at least 50 percent from the field for the third consecutive game.  The Fever are now 4-0 this season when shooting 50 percent or better from the field.
During Indiana's current three-game winning streak, the Fever have averaged 84.3 points per game and shot 51.6 percent from the field while outscoring opponents by an average of 18.0 points per game.
Indiana's bench contributed its highest scoring total of the season as they piled up 38 points.
Indiana tied a season high with 13 offensive rebounds, outscoring the Storm 15-6 in second-chance points.
The Fever also tallied their highest points in the paint total this season as they outscored Seattle, 44-20.
Indiana (6-6) improved its regular season record to .500 for the first time since the Fever were 10-10 after July 10, 2014 last season.
Seattle's 45 field goal attempts were the fewest by any team in the WNBA this season. They were the fewest against Indiana since May 27, 2012.
Quotes
Fever head coach Stephanie White
"[Lynetta] Kizer has been one of our best post-up players all year. We knew exactly what we had in her when she came to us last season. We have never questioned her as an offensive player. She's got a great skill set. We did challenge her in the offseason, though, to be ready to play at our pace. We WANT to get the ball in her hands. We need to be able to go to her all the time."
"The last two games, we have really emphasized energy. Whenever we execute well, we're going to win games. But even when the execution isn't there, if we get the effort to overcome some of those mistakes or turnovers or misses, we can still score. We have a really high-energy team and that has been a point of emphasis the last couple of games."
"From a confidence standpoint, winning three in-a-row is certainly a booster mentally. But you have to move on and know that everybody we play can give us a dogfight. Three straight isn't really that important by itself, but what is more important is how much we improve from one day to the next."
Fever's Marissa Colemen
(On the offense)
"I think we all came ready to play from top to bottom today, no matter the starters or people coming off the bench.  Everybody just came ready to play today and focused on getting a win."
(On the strength of the last three games)
"I think we're finally all getting comfortable with playing with each other, playing the new system.  We've had a lot of people in and out with injuries.  It's been hard to get in a flow with each other.  I think finally we're getting to that point."
Fever's Lynetta Kizer
(On her offensive output off the bench)
"What I try to do every day is just play hard.  When we huddle at the bench after our starters go out, we just say the same thing every day that we just want to bring the energy and that's something we've been focused on doing.  I'm just playing hard.  My guards are getting me the balls in the right places and the places where I felt comfortable or where they felt comfortable giving me the ball and just knocking down shots."
Storm head coach Jenny Boucek
(Can you evaluate the team offensively?)
"I think just overall we've run out of gas.  We've been on the road a lot.  Haven't had a chance to rest or practice in a while.  We played against a really good team that's playing really well.  Just didn't have enough to battle them."
(On the Fever's defense)
"Super active, super energized, really helping each other and putting a lot of pressure on us in different spots, mixing up their defense,  requiring us to have the same energy but also really collectively being able to read what they're doing.  And we just weren't able to do it."
Storm's Sue Bird
(What hurt you guys tonight?)
"Indiana is a really good defensive team and they like to be physical and aggressive and take you out of your sets and that's basically what happened.  We just didn't respond to what they did."
(On turnovers)
"Obviously turning the ball over is never a good thing.  But it's a part of the game and I think with that, it wasn't just turnovers.  I think in a lot of areas they played a lot better than we did."
Storm's Jewell Loyd
(On their offense)
"We're taking good shots, we're just missing them.  We were hesitant at times.  We just have to get more aggressive, have more confidence in ourselves to make shots.  I'm trying to get more aggressive, get to the free throw line.  Just trying to get into a good rhythm."
By the Numbers
Points in the Paint: Storm 20, Fever 44
Second Chance Points: Storm 6, Fever 15
Fastbreak Points: Storm 1, Fever 4
Biggest Lead: Storm 2, Fever 25
Lead Changes: 1
Times Tied: 1