Plenette Pierson helps Tulsa end road skid, top Atlanta 85-75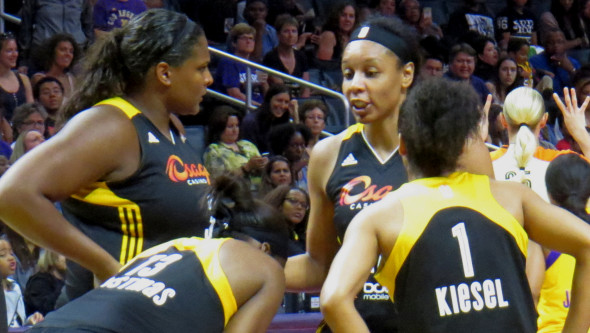 The Tulsa Shock (9-4) snapped a three-game road losing streak with an 85-75 win at Atlanta (5-7) Tuesday night. Even without guards Skylar Diggins (out for the season with an ACL injury) and Odyssey Sims (expected to be back in action this weekend), the Shock held off the Dream from the outset.
"You see why this team is a very good team out in the West," said Atlanta head coach Michael Cooper. "They have two players down and they still came and brought it, and you got to tip your hat to them."
There were no lead changes or ties during the entire game. The Shock earned a six-point lead within two minutes after rookie Brianna Kiesel nailed a three-pointer at 8:12. Tulsa made 11 of its first 14 shots from the field (78.6 percent) to take a 29-21 lead after the opening quarter. At the half they had a 48-41 advantage.
"It was just a good, hard-fought victory," said Tulsa head coach Fred Williams. "Both of us were playing hard for ESPN 2 and the game of basketball, and I thought it was a good women's game. The game could've gone either way. We lost some rebounds at the end. As far as us, I thought that we turned into a half court team versus a fast break team. We gave up too many fast break situations for them.  But this team is still learning. We're building and we're young and we have a lot of players on here who are pretty hungry. And that's all about teaching them as a coach."
Four of Tulsa's five starters finished the game in double figures led by veteran Plenette Pierson (24 points, five rebounds). Riquna Williams was close behind with 23 points, five rebounds and four steals. Kiesel finished with 16 points and four assists. Karima Christmas scored 12 points and pulled down nine rebounds. The league's leading rebounder, Courtney Paris, had 10 to go along with two points.
Angel McCoughtry led her team with 25 points plus nine rebounds. Sancho Lyttle contributed 14 points plus 13 rebound while Aneika Henry scored 13 points and pulled down six rebounds.
The Shock are in second place in the West while the Dream are in last place in the East. Tulsa heads home to play Los Angeles on Saturday. The Dream host New York on Sunday.
Notes
Tulsa finished 29-for-36 from the free throw line, while limiting Atlanta to a 12-for-20 clip.
The Shock's 29 first-quarter points were the second-most allowed by the Dream in the opening 10 minutes this season (30 at New York, 6/5).
Kiesel registered a season-best 16 points while shooting 7-of-15 from the field.
Williams drilled a career-best 18-of-20 free throws in the victory.
McCoughtry's 25 points extended her current streak of games with double-figure points to 18 straight, including all 12 this season.
Atlanta lost despite having 17 more field goal attempts than Tulsa for the game.
The Dream scored 56 of their 75 points in the paint.
Quotes
Atlanta Dream head coach Michael Cooper
On defense in the first quarter
"Well, they came out. This team can score. I think (Riquna) Williams is one of the best in the league and she showed that she can hit shots. They were being aggressive. You have to remember this team has lost three in a row so we knew that they were going to come with some fight. I just don't think that we competed enough. When you give up 30 points in the first quarter you're not going to put yourself in a position to win many games."
On defense getting rebounds
"They stepped up but when we needed them to step up I thought we shot away from a little bit of contact. But again, we're still a work in progress. I think Aneika and Tiffany are still trying to find their way."
Atlanta Dream Forward Sancho Lyttle
On offense's struggle down the stretch
"I just think after we get too tired we stop thinking, I guess. Sometimes that happens when we're trying to do something out of the ordinary and people aren't ready for it. We just have to get over it and go to the next game."
On the spasm at the end of the game
"I went to make a move and it just pulled up one me, but sometimes that happens in the game when you play so many games in so much short time."
Tulsa Shock head coach Fred Williams
On keeping the lead all game…
"When we had a strong lead, we had a couple of unforced turnovers and mental errors there.  Angel McCoughtry stepped it up and then Tiffany Hayes started getting loose on us with some drives and some shots. So I just told the team to just maintain their composure, that we'd have a few droughts, but just get to the free throw line and put some of those free throws down because we were in bonus situations."
Shock Forward Plenette Pierson
On overall performance
"I think we just played great today.  We played team ball. They got me shots in the right spots, and I was able to make them, and we just played team and resilient basketball today."
On the team's defense…
"That's our forte this year: to be aggressive and play hard for all 40 minutes until the buzzer sounds.  The Dream made a run and we just knew we had to stay to them and just weather the storm."
By the Numbers
Points in the Paint: Shock 28, Dream 56
Second Chance Points: Shock 7, Dream 17
Fastbreak Points: Shock 11, Dream 24
Biggest Lead: Shock 10, Dream 0
Lead Changes: 0
Times Tied: 0