San Antonio Stars' Danielle Adams suspended for violating league drug policy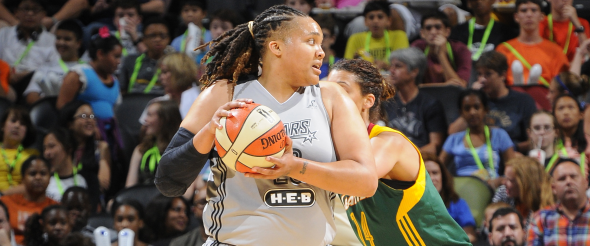 The WNBA announced today that forward Danielle Adams of the San Antonio Stars has been suspended without pay for three games for violating the terms of the league's and player's union anti-drug program.
"I sincerely apologize to my teammates, the Stars organization and our fans for my actions," said Adams. "As a professional athlete, I understand that I am held to a higher standard. I plan to use this experience as an opportunity to grow both personally and professionally."
Adams, in her fourth year in the league, will serve her suspension during San Antonio's next three games, against the Atlanta Dream today, the Washington Mystics on July 31, and the Los Angeles Sparks on August 2.
"Danielle's health and well-being are our top priorities as she works through this process," said Stars head coach and general manager Dan Hughes. "While we are disappointed in Danielle's actions, our focus will be on supporting and assisting her in every way we can."
She is averaging 8.4 points and 3.5 rebounds per contest in 16.6 minutes per game, a drop off from last year's numbers (10.9 ppg, 4.1 rpg, 20.6 mpg) and the lowest statistics of her career.
Danielle Adams' Career Regular Season Averages
| | TEAM | G | GS | MPG | FG% | 3P% | FT% | OREB | DREB | RPG | APG | SPG | BPG | TO | PF | PPG |
| --- | --- | --- | --- | --- | --- | --- | --- | --- | --- | --- | --- | --- | --- | --- | --- | --- |
| 2011 | SAN | 23 | 0 | 20.9 | 0.430 | 0.350 | 0.746 | 1.5 | 2.7 | 4.3 | 0.6 | 0.5 | 0.6 | 1.1 | 2.6 | 12.4 |
| 2012 | SAN | 34 | 5 | 20.2 | 0.441 | 0.339 | 0.759 | 1.8 | 2.9 | 4.7 | 1.0 | 0.6 | 0.6 | 1.2 | 2.8 | 11.8 |
| 2013 | SAN | 34 | 24 | 26.4 | 0.426 | 0.326 | 0.707 | 1.6 | 3.2 | 4.7 | 1.2 | 0.8 | 0.7 | 1.7 | 2.8 | 14.4 |
| 2014 | SAN | 34 | 14 | 20.6 | 0.407 | 0.307 | 0.797 | 1.2 | 2.9 | 4.1 | 0.9 | 0.6 | 0.7 | 1.2 | 3.0 | 10.9 |
| 2015 | SAN | 17 | 2 | 16.6 | 0.417 | 0.311 | 0.865 | 1.0 | 2.5 | 3.5 | 0.6 | 0.5 | 0.2 | 1.2 | 1.6 | 8.4 |
| Career | | 142 | 45 | 21.5 | 0.425 | 0.327 | 0.755 | 1.5 | 2.9 | 4.4 | 0.9 | 0.7 | 0.6 | 1.4 | 2.7 | 11.9 |