Canada is heading to Rio, defeats Cuba in final of FIBA Americas tournament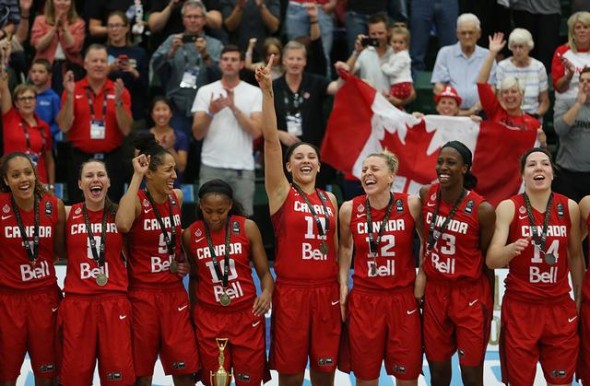 The Canadian national team punched their ticket for the Rio 2016 Olympics, winning the 2015 FIBA Americas Women's Championship. Canada beat Cuba 82-66 in Edmonton, Alberta.
Tournament All-Stars:
Kia Nurse (Canada)
Tamara Tatham (Canada)
Clenia Noblet (Curba)
Yamara Amargo (Cuba)
Melisa Gretter (Argentina)
From Basketball Canada:
"To do this on home soil, to do this in front of our fans, it's a once-in-a-lifetime opportunity. From the time we knew we were hosting this event and for it all to come true, it's just an amazing feeling," said head coach Lisa Thomaidis.
Kia Nurse, who scored 20 points, led the gold-medal effort for Canada. Miah-Marie Langlois shined, scoring 11 points with eight assists and only one turnover. Team Canada shot 53 percent from the field. Leidys Oquedo poured in 25 points to keep Cuba in it. Nurse was named MVP.
"It's an incredible experience. Our team was pumped for this. To play as well as we did throughout the whole was amazing. Edmonton really stepped up and supported us every day. We couldn't be more thankful for that," said Nurse.
The first quarter saw a tight start for Canada, struggling to settle into their offence. Cuba used a mix of long-range attempts and rim attacks to carve out a 11-5 advantage through five minutes of play. Team Canada would be behind 22-19 after 10 minutes of action – the first time being behind after one quarter throughout the entire tournament.
A 16-0 Canadian run that started at the end of the first energized the sold-out Saville Centre and powered Canada to a 30-22 lead. Cuba turned the ball over and Canada flourished with the transition opportunities to find lay-ups and threes. After being down three, Canada turned it around to win the second quarter 25-13 and lead 44-35 at the half.
Cuba would not go quietly, starting the second half with an 11-0 run to take a lead. But behind Miah-Marie Langlois and Nurse, the Canadians took control. The guards blew by Cuban defenders and getting open lay-ups to ignite the crowd. Cuba had no answer for the dynamic perimeter play and the Women's National Team held a 65-54 advantage after the third quarter.
With an Olympic berth on the line, Cuba dug deep but Canada would not waver. For every Cuban bucket, Canada answered back to maintain their double-digit advantage. An and-one from Nirra Fields with 4:37 left put Canada up 75-60 and the lead would be too much. As the crowd chanted "Rio," the buzzer sounded and Canada punched their ticket to the Rio 2016 Olympics with a 82-66.
"It's exactly what I had dreamed. When the crowd was chanting Rio at the end of the game, we were trying to hold back tears and keep composed because there was still 90 seconds left to play. What an unbelievable experience, " said Kim Gaucher.
"It's every athletes dream to be an Olympian. It's a huge deal for us. The last time we were at FIBA Americas we were so close but fell short. Today, every one played their hearts out and we came up with the win. It's amazing," said Tamara Tatham.
This is the first FIBA Americas win since 1995, where the Women's National Team won the tournament in Hamilton, Ontario.
The Rio 2016 Olympics will be Canada's sixth Olympics appearance. The team last appeared at the London 2012 Olympics.
From FIBA:
• Turning Point: Cuba had opened the second-half with a 12-5 run that gave them a one point 50-49 lead with 5:19 to go in the third quarter when point guard Ineidis Casanova was called for an unsportsman-like foul that stopped their rhythm. Canada went on 14-2 run after the call.
• Stats don't lie: Canada ended up with 4 players scoring in double figures, while also dominating the rebounding battle 34-23, including 8 (4 offensive) from Katherine Plouffe off the bench.
• The Bottom Line: Canada was perfect in this 2015 FIBA Americas Women's Championship. Unbeaten, the team led the competition in points, rebounds, as-sists and field goal percentage. This is their second gold medal in the history of the competition, having won the gold in the first-ever edition in 1995.