Liberty defeat the Lynx 81-68, head to the playoffs for the first time since 2012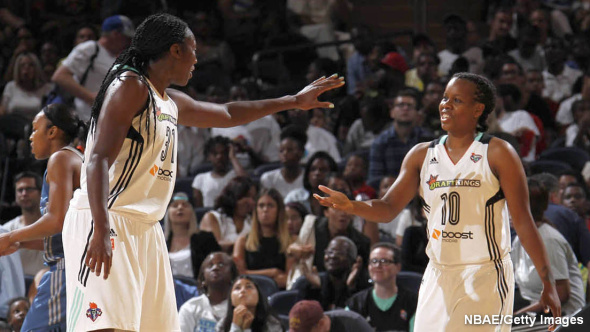 The New York Liberty (19-8) defeated the Minnesota Lynx, 81-68, to clinch their first playoff berth since 2012. The team will play in the postseason for the 13th time in franchise history.
Epiphanny Prince led the Liberty, finishing with 22 points. Tina Charles scored 18 points and pulled down 11 rebounds for her first double-double since August 7, but her 10th of the season and 107th of her career, which is second all-time
New York, the Eastern conference leader, has the best winning percentage (.704) in the WNBA. The Liberty improved to 10-3 at Madison Square Garden this season.
Maya Moore was the Lynx's high scorer with 25 points. Sylvia Fowles added 18 points and 10 rebounds. The Lynx have already clinched a playoff spot and fell to 19-10.
The Liberty hit the road for a game against the Connecticut Sun on Saturday. The Lynx return home to face the Phoenix Mercury on Sunday.
Quotes
Liberty head coach Bill Laimbeer
On the win
"Our game plan was to play with intensity for 40 minutes. We kept the pressure on them offensively and defensively throughout the game. That was a big key tonight; but we have a long way to go. This just happens to be one game. We beat a quality team in our own building.  That is to be expected. Yes, we made the playoffs but in the locker room we are like 'Great! Let's play tomorrow.' We have more opportunities in front of us to get more wins. We have some business to take care of."
On Epiphany Prince
"Epiphany [Prince] has been playing well like this since she got back from Russia. She only had one bad shooting game and the rest of the games have been pretty consistent. She's patient. She can really see the floor. You can't underestimate her value to us. She plays some quality defensive minutes too."
Liberty guard Candice Wiggins
On beating the Minnesota Lynx
"Anytime you beat the best team in the West, it is similar to a match-up in the Finals. For me, I played for Minnesota five years and really grew up with the Lynx so anytime I get a win against them; it is like the biggest game of the year emotionally. It speaks volumes to how much our team has come this season."
On clinching playoff berth
"[Clinching playoff berth] definitely gives us a confident boost but we know our work is not done. We are hungry and we have to keep this going. We have to keep this energy going. The hungry lion hunts best so we are just trying to stay hungry and stay motivated because we know that we are number one and everybody is coming for us. We now have to come for them even harder. We haven't thought about the playoffs yet or the standings because we have a lot more work to do."
Liberty guard Epiphanny Prince
On clinching playoff berth
"We were very excited. We wanted to treat this game like a playoff game. We are number one in the East and they are number one in the West so we just wanted to come out and play hard with intensity and give it a good run."
On what the team will focus on moving forward
"We definitely have a confidence boost because [Minnesota Lynx] are a contender in the playoffs and even in the championships. We just have to remained focus on each game to come."
Lynx head coach Cheryl Reeve
On tonight's game
"They [New York Liberty] protect the paint better than anyone in the league. It's what they take great pride in. We've been a team that does the same thing but for whatever reason, the combination of things that we've been really good at, right now, are escaping us. New York's defense is obviously really good, and this is what they do to people… It's tough. When you do get open shots with nobody around you, you have to put the ball in the hole. Somebody other than Maya (Moore) has to put the ball in the hole…it's not that we don't play hard. We play really hard. We had some players really competing. We have no choice but t o keep fighting."
On winning on the road
"Our list is not short of what we have to do to win hard games on the road, against the best team in the East and now the best overall team. The list is long for us. I've said this before, we cant hide. We have to keep standing there and face it, and see if we can figure it out."
On Minnesota's defense performance
"I thought we were ok defensively but it s hard to say that when they shot 51 percent. When their two best scorers get that it's disappointing, its just a combination of things. A combination of the offense and the defense that leads to 51 percent and 37 percent. We did get to the foul line and kept them off the foul line, which is something that they do. But all the areas that they're good at they were good at against us. Which is obviously disappointing because going in to the game you try to provide some resistance in the areas that they're good at but their will was stronger than ours."
Lynx center Sylvia Fowles
On what allowed her to get it going offensively in the second half
"In the first half I was rushing my shot and not really paying attention to what the [New York Liberty] defense was giving me. At halftime my teammates told me to go out [in the second half] and play my game and that got me going."
On what the New York Liberty did to keep them from completely cutting the lead during any of their second half pushes
"They took advantage of our defense. We were a tad bit slow defensively; we didn't box out on a few second shot opportunities; they got some open threes, and we just weren't in the right place when needed."
On what Minnesota needs to fix going into the next game
"I think it's all about knowing where you need to be defensively and sticking together. There were spurts during the game we played together and there were others where what we were doing was questionable. I think if we put it together for a full forty minutes we will be fine."
Lynx forward Maya Moore
On what The Liberty were doing defensively to frustrate The Lynx offense in the first half
"They were scoring in the paint. The shots down low are easier to make and [the New York Liberty] were more determined to score in the paint."
On what she will tell the team going into the next game to improve on tonight's effort
"It's about playing consistently hard and focusing for forty minutes."
By the Numbers
Points in the Paint: Lynx 28, Liberty 40
Second Chance Points: Lynx 20, Liberty 13
Fastbreak Points: Lynx 2, Liberty 5
Biggest Lead: Lynx 2, Liberty 14
Lead Changes: 2
Times Tied: 2