Updated: Mercury center Brittney Griner seeks annulment from pregnant wife, Tulsa forward Glory Johnson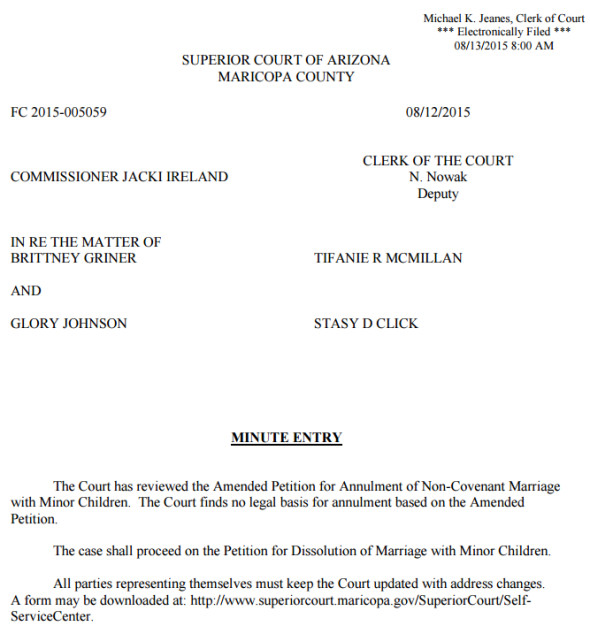 Phoenix Mercury center Brittney Griner will not be able to proceed with an annulment of her marriage to Tulsa Shock forward Glory Johnson. The Superior Court of Arizona in Maricopa County denied her annulment petition on Wednesday, Aug. 12. The case proceeds as a divorce.
"The Court has reviewed the Amended Petition for Annulment of Non-Covenant Marriage with Minor Children. The Court finds no legal basis for annulment based on the Amended Petition.

The case shall proceed on the Petition for Dissolution of Marriage with Minor Children."
Johnson is pregnant with twins.
The Mercury defeated the Seattle Storm 83-66 Wednesday night. Griner performed well below her season averages (14.6 points per game and 7.5 rebounds per game), scoring only four points and pulling down just five rebounds in the contest.
---
A day after the Tulsa Shock announced that forward Glory Johnson would be out for the season due to pregnancy, her wife, Phoenix center Brittney Griner, filed to annual their 28-day marriage. The young couple were married just a few weeks after they were both arrested for a domestic violence incident in their suburban Phoenix home. Both players were suspended for seven games.
"Last Wednesday, Glory and I agreed to either legally separate, get divorced, or annul our marriage," Griner said in a statement first released to ESPN. "I can confirm today I filed for an annulment. In the week prior to the wedding, I attempted to postpone the wedding several times until I completed counseling, but I still went through with it. I now realize that was a mistake."
According to media reports, Johnson was blindsided by the annulment filing.  Friday morning, just hours before the news of the annulment started to surface in the press, she posted an Instagram photo pledging her love to Griner with the message:
"One day until I'm reunited with my wife @brittneygriner. . . This is about to be one CRAZY SUMMER!!! #TooExcited #NewLife #NewAdditionToTheFamily."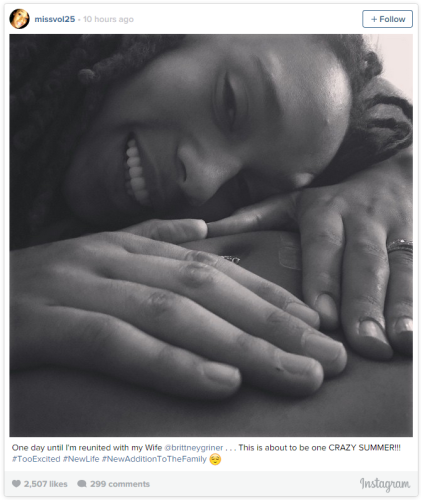 Griner was initially barred from attending the Mercury's home opener which included a pregame ring ceremony for the league'WNBA's defending champs. However, this week the league granted her permission to attend the event.