Xavier and Mount St. Joseph to open season with doubleheader honoring Lauren Hill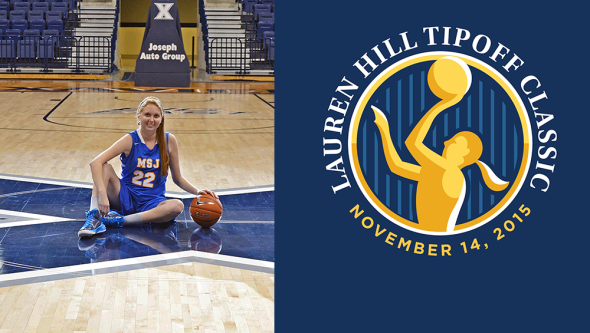 Xavier University and Division III school Mount St. Joseph University will open their seasons with a doubleheader at the Cintas Center in Cincinnati on Saturday, Nov. 14 in honor of the late Lauren Hill.
Both games of the inaugural "Lauren Hill Tipoff Classic" will be televised on FOX Sports Ohio. Hill was a Mount St. Joseph student who played despite battling an inoperable brain tumor. She participated in her first college game on Nov. 2, 2014 against Hiram College in front of a sold-out crowd at Cintas Center on national television.
"I'm not sure there is a better way to open our basketball season this year than hosting a tournament to recognize Lauren Hill," said Xavier head coach Brian Neal. "Her courageous battle with brain cancer is an inspiration to all of us. Her ability to raise over a million dollars in such a short period of time is just one example of how extraordinary Lauren was."
The event will be an annual kickoff to for Xavier and Mount St. Joseph women's basketball seasons. Xavier will play Evansville at 1 p.m. ET Mount St. Joseph will play Hiram College approximately 30 minutes following the conclusion of game one. Ticket proceeds from the games will benefit The Cure Starts Now Foundation, a not-for-profit committed to raising money for pediatric cancer research. During Hill's struggle she raised awareness for organization and helped to raise over one million dollars.
"Lauren instilled hope in all of us by trying to cure cancer and by delivering the message to never give up on your dreams," said her mother Lisa Hill. "I think the event will mean as much for Hiram and Xavier as it will for the MSJ community. The tip-off classic should serve as a way to remember what we have and celebrate life… and watch some basketball."