Atlanta Dream sign guard Carla Cortijo for rest of season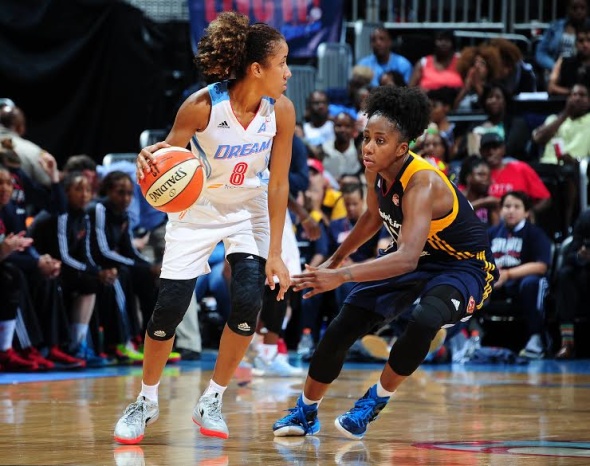 From the Dream:
The Atlanta Dream have announced that they have signed guard Carla Cortijo (July 21, 1987) for the remainder of the season.
Cortijo was added to the squad after the franchise was awarded a roster hardship waiver following recent injuries to Roneeka Hodges (calf) and DeLisha Milton-Jones (concussion). Hodges will miss the remainder of the 2015 season. In addition, Cierra Burdick had surgery previously this season to repair a stress fracture in her left foot and has also been ruled out for the rest of 2015.
Cortijo has played professionally in Puerto Rico the last five seasons (2009-15) for Gigantes de Carolina (BSNF). She guided Gigantes de Carolina to the 2014 BSNF Championship and was honored as the most valuable player of the finals.
Most recently, Cortijo was the captain and starting point guard for the Puerto Rico National Team at the 2015 Pan American Games, where she posted averages of 19.7 points, 4.7 rebounds and 3.3 assists over three contests. Her best effort came against the United States as she recorded 24 points and five assists.
Cortijo will be the first Puerto Rican-born player in WNBA history.
In 2011, Cortijo helped lead Puerto Rico to a gold medal at the Pan American Games. Cortijo scored 29 points while adding 10 assists and six rebounds in the gold-medal game victory over Mexico.
She has also competed internationally in the 2014 Centrobasket Championship (5 games, 13.2 ppg, 5.6 apg, 3.6 rpg), 2014 Central American and the Caribbean Games for Women (4 games, 10.5 ppg, 2.5 apg, 1.5 rpg), 2013 FIBA Americas Championship for Women (15.2 ppg, 5.3 apg, 4.2 rpg) and 2012 FIBA World Olympic Qualifying Tournament for Women (16.0 ppg, 2.0 apg, 2.5 rpg).
A native of San Juan, Puerto Rico, Cortijo moved to Houston, Texas, to attend Bellaire High School. She finished her prep career at Bellaire as one of the most decorated prep players in the state of Texas, and was named one of the 10 Naismith High School Player of the Year finalists, a Parade All-America third team choice and a Street & Smith's All-America honorable mention.
The 5'8″ point guard attended the University of Texas and was the starting point guard for the Longhorns during the majority of her tenure (2005-09).