Chicago Sky's Elena Delle Donne named 2015 WNBA MVP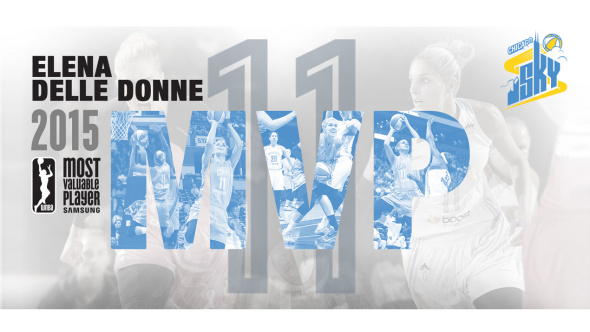 It was no surprise that Elena Delle Donne of the Chicago Sky has been named the 2015 WNBA Most Valuable Player. She has the fifth-highest scoring average in WNBA history this season and earned 38 of 39 first-place votes from a panel of sportswriters and broadcasters.
Delle Donne, a third-year guard/forward won the award for the first time. She led the Sky to a 21-13 record and the No. 2 seed in the Eastern Conference playoffs. The second overall pick in the 2013 WNBA Draft averaged a league-high 23.4 points in 31 games, scoring at least 40 points twice, 30 points five times, and 20 points 21 times. She also shot a WNBA-best 95.0 percent (207-for-218) from the free throw line and finished third in the league in rebounding (8.4 rpg) and blocked shots (2.06 bpg).
She began the season in historic fashion by averaging 28.7 points in June, a WNBA record for the first 10 games of a season.  The former University of Delaware star is only the fourth player in league history to notch two 40-point games in a single season. In addition to being named the WNBA Eastern Conference Player of the Month for June, Delle Donne earned the conference's Player of the Week honor a league-best five times. She also recorded 10 double-doubles on the season, two shy of the league high shared by Candace Parker and Jantel Lavender of the Sparks and Tina Charles of the Liberty.
Delle Donne's prolific free throw shooting included a Sky-record 54 consecutive makes, and her overall performance at the foul line marks the sixth time in league history that a player has made more than 200 free throws in a season. Her 95.0 percentage was the seventh-best single-season mark in league history and the highest all time among players with more than 100 free throw attempts in a season.
In honor of being named the WNBA Most Valuable Player, Delle Donne will receive $15,000 and a specially designed trophy.
Career Regular Season Averages
| Season | G | GS | MPG | FG% | 3P% | FT% | OREB | DREB | RPG | APG | SPG | BPG | TO | PF | PPG |
| --- | --- | --- | --- | --- | --- | --- | --- | --- | --- | --- | --- | --- | --- | --- | --- |
| 2013 | 30 | 30 | 31.4 | 0.426 | 0.438 | 0.929 | 1.4 | 4.2 | 5.6 | 1.8 | 0.6 | 1.8 | 1.3 | 1.6 | 18.1 |
| 2014 | 16 | 9 | 25.5 | 0.429 | 0.364 | 0.933 | 1.4 | 2.6 | 4.0 | 1.1 | 0.5 | 1.5 | 0.7 | 1.4 | 17.9 |
| 2015 | 31 | 31 | 33.3 | 0.460 | 0.313 | 0.950 | 1.9 | 6.5 | 8.4 | 1.4 | 1.0 | 2.0 | 1.1 | 1.7 | 23.4 |
| Career | 77 | 70 | 30.9 | 0.442 | 0.365 | 0.939 | 1.6 | 4.8 | 6.4 | 1.5 | 0.8 | 1.8 | 1.1 | 1.6 | 20.2 |
Voting results
| | | | |
| --- | --- | --- | --- |
| Points | Player | Team | First Place Votes |
| 385 | Elena Delle Donne | Chicago Sky | 38 |
| 246 | Maya Moore | Minnesota Lynx | 1 |
| 181 | Tina Charles | New York Liberty | |
| 70 | Brittney Griner | Phoenix Mercury | |
| 57 | Candace Parker | Los Angeles Sparks | |
| 29 | DeWanna Bonner | Phoenix Mercury | |
| 15 | Tamika Catchings | Indiana Fever | |
| 13 | Epiphanny Prince | New York Liberty | |
| 10 | Angel McCoughtry | Atlanta Dream | |
| 7 | Courtney Vandersloot | Chicago Sky | |
| 1 | Nneka Ogwumike | Los Angeles Sparks | |
Previous MVP Winners
2014-Maya Moore, Minnesota Lynx
2013-Candace Parker, Los Angeles Sparks
2012-Tina Charles, Connecticut Sun
2011-Tamika Catchings, Indiana Fever
2010-Lauren Jackson, Seattle Storm
2009-Diana Taurasi, Phoenix Mercury
2008-Candace Parker , Los Angeles Sparks
2007-Lauren Jackson, Seattle Storm
2006-Lisa Leslie, Los Angeles Sparks
2005-Sheryl Swoopes, Houston Comets
2004-Lisa Leslie, Los Angeles Sparks
2003-Lauren Jackson, Seattle Storm
2002-Sheryl Swoopes, Houston Comets
2001-Lisa Leslie, Los Angeles Sparks
2000-Sheryl Swoopes, Houston Comets
1999-Yolanda Griffith, Sacramento Monarchs
1998-Cynthia Cooper, Houston Comets
1997-Cynthia Cooper, Houston Comets