Elena Delle Donne discusses receiving the MVP award, an "humbling experience"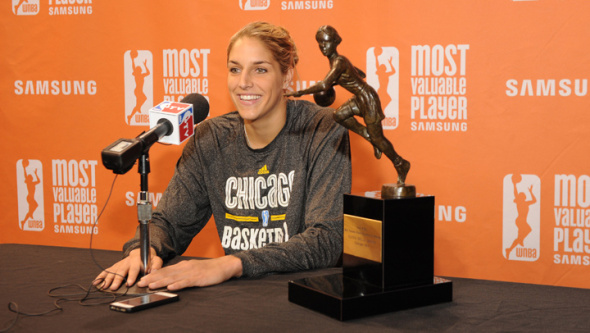 The WNBA's 2015 MVP, Chicago Sky guard/forward Elena Delle Donne, discussed her award yesterday. The Sky ended the season as the second place team in the East and host the Indiana Fever Thursday in game one of the conference semifinals.
Delle Donne expressed admiration for her teammates and coaches in discussing the MVP honor.
"It's a humbling experience to be sitting here next to the MVP trophy. There are so many incredible players in the league, and to be named Most Valuable Player this season is remarkable. It makes me speechless, but this really isn't an individual trophy. Everybody always asks 'you don't like to talk about yourself?' Well, it's not about me. There's no way I would be sitting here without every single teammate and every coach and every person in the Sky organization who makes our job easy. We just have to get on the court and play some basketball. So, huge thank you to every single person involved in this organization and also my family who've been through a lot of ups and downs. There was one day where I never dreamt of being here; I put down a basketball and thought I'd be putting that down forever. To be sitting here is shocking and definitely a little bit emotional for me."
On what her biggest challenge was this season
"I wouldn't even call it a challenge but just continuing to be in that leadership role and enjoy that role. It's something my coaches have wanted me to do for a while, but there's an 'aha' moment when trying to become a leader and that was able to happen this season. I think the biggest thing is the chemistry with the team so it was easy to come into that position. To have people like Cappie [Pondexter] and Courtney [Vandersloot] on my side as leaders, as well, really helped me along the way."
On what she thought about her stats this season
"This season was pretty crazy and I'm not someone who pays attention to the numbers, but the media does. I felt there was a point in the season where everybody was talking about it and obviously you're aware as much as you try not to be so I would say the media made me aware of some of the numbers. I still try to not listen to and focus on the next game but there was a point in the year where it felt like it was going to be a special season, not just for myself but the entire team."
On her health regimen to stay healthy
"Last year I was in a much different situation, just hoping that I'd be healthy enough to stay on the court. And this year I finally came together with my doctors and got a really great plan and protocol where I take a lot of supplements throughout the entire day. I drink a shake that is completely made for me and helps me with my energy and muscle aches. And, not only that, I try to eat healthy. Weekly, I meet with my doctor here and my doctor here will communicate with my doctor back home. I'm always at the doctor and get to see his smiling face. I get a weekly massage and just try to relax and stay off my feet, and do things that aren't too high energy." 
On how her off-season workouts improved her performance
"I had an extremely grueling off season. Once I got healthy I was at the gym and ready to go because I wanted this to be a huge year after not being able to play much last year. I wanted to, first of all, be healthy and change my body and make my body the best it possibly could be to get me through this season. I have a phenomenal strength coach in Dina Saitis. She's someone I met last year and decided I was going to go with her because the way she structures her workouts is so endurance-oriented; I felt that's what my body needed to get to the next level. She was able to help me change my body and just feel far more athletic this season to endure games longer."
On how having Cappie Pondexter as a teammate changed her mentality
"Cappie, from day one changed not only my mentality, but the team's mentality. She  always says 'living the dream, we're living the dream.' And she reminds us that every day. We say 'LTD' for Cappie. She keeps things in perspective; we're playing basketball for a living and that's pretty amazing. Cappie keeps things light. We call her "Happy Cappie." And she challenges me. There was a game this season she called me out in the locker room and said 'your defense has got to step up.' You can hear that from a coach, but when you hear it from your teammate, who you respect so much, that changes you. And, I made sure that Cappie would never have to talk to me about my defense again; so, she just challenges every one of us and continues to make us better in that way."
On what lies ahead
"Indiana lies ahead of us right now. And that's the focus, just one game at a time. Obviously, the end goal is a WNBA Championship and that's what we're striving for but, our team is great at just focusing on the next game and I think that's always helped us this season."