New York Liberty's Kiah Stokes named WNBA Rookie of the Month for games played in August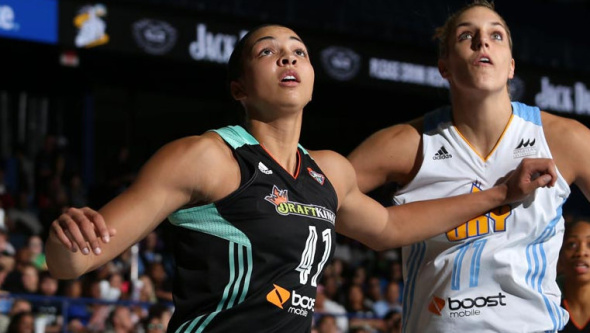 Kiah Stokes of the New York Liberty was named the WNBA Rookie of the Month for games played in August. She led all rookies in rebounds (8.3 rpg), field goal percentage (.564, 31-for-55), and blocks (1.5 bpg) for the month. She also placed second in minutes per game (27.8 mpg), third in free throw percentage (.833, 10-for-12), and fifth in points (7.2 ppg). Stokes ranked fourth among all WNBA players in rebounds and field goal percentage while tying for fifth in blocks. On Aug. 11, Stokes posted a career-high 13 points to go with 11 rebounds and two blocks in the Liberty's 84-63 victory over the Chicago Sky.
The 6-3 center from UConn helped the Liberty to an 8-2 record for the month, helping New York clinch its first playoff berth since 2012. The Liberty sits atop the Eastern Conference at 20-8 and holds the best record in the league.
Highlights of Stokes's month included:
Aug. 11 vs. Chicago: Scored a career-high 13 points and added 11 rebounds in an 84-63 win over the Sky.
Aug. 21 vs. Atlanta: Contributed eight points, nine rebounds, and two blocks in a 78-67 victory over the Dream.
Aug. 29 at Connecticut: Recorded 12 points and 10 rebounds in an 80-66 win over the Sun.