Ogwumike returns and Sparks overcome 15-point deficit to defeat Mystics, remain in playoff hunt
The Los Angeles Sparks (13-18) overcome a 15-point deficit to defeat the Washington Mystics 93-91 at Staples Center Thursday night. It was the largest comeback of the season for the Sparks. They outshot the Mystics (16-14), 54 percent to 48.6 percent from the field.
The Sparks have one game remaining at home (Sunday, September 6 vs. Tulsa), before finishing the season with two games on the road.
Candace Parker led the Sparks with 26 points, 11 rebounds and six assists. Parker only committed one personal foul in the contest. It came late in the second quarter at 2:58 when the officials called her for an offensive foul. However, the foul was clearly a flop on the part of Mystics forward Tierra Ruffin-Pratt. Sparks coach Brian Agler began to protest the call immediately and ended up getting assessed a technical foul.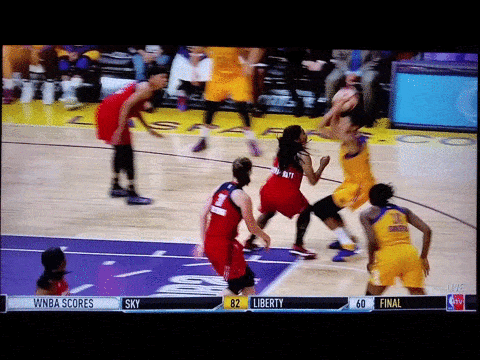 Sparks forward Nneka Ogwumike returned to the floor after missing the last six games due to injury, to notch her sixth double-double of the season with 24 points and 10 rebounds. Her 14 points from the free throw line set a new career-high in free-throws made. Ana Dabovic scored 16 points and Jantel Lavender finished with 12 points and seven rebounds.
Emma Meesseman was Washington's top scorer with 19 points plus eight rebounds. Ivory Latta scored 18 points, Stefanie Dolson contributed 15 points and Ruffin-Pratt finished with 10 points plus four assists. Rookie guard Natasha Cloud tallied a career-high 11 assists.
The win ended the season-series, 1-1, and snapped a three-game losing streak against Washington that dated back to the 2014 season-series
With the Sparks (13-18) win and the Storm's (9-21) loss tonight, Los Angeles can clinch the final playoff spot in the western conference with either a Sparks win or Storm loss in the remaining games of the season. Los Angeles has three games left compared to Seattle's four remaining this season. The Sparks host the Tulsa Shock Sunday.
Washington heads back East for another road game, a contest against the Atlanta Dream on Sunday afternoon.
Notes
Los Angeles converted a season-high 35 free-throws compared to Washington's 11 made. It was the second-most free-throws made in franchise history – 40 vs. Washington, August 3, 1998. The Sparks are 6-1 at home this season when making free-throws in the game than its opponent
Prior to the game, the WNBA announced forward Candace Parker WNBA Player of the Month for games played in August – first of the season, fifth of her career
Quotes
Sparks head coach Brian Agler
On the team's winning run and playoffs
"We're getting healthy. We're getting our people back and I think we're getting hungry for the playoffs and we're not quite there yet. We got work to do, but I think they're hungry for that. We've steadily gotten better, we've steadily gotten healthier, we've gotten people back, but this championship in this league is just up for grabs. There's a lot of good teams, no one's run away with either side, several teams are playing good basketball right now, and once you get into the playoffs, anything can happen. Hopefully we can get there."
On Candace Parker
"I've coached against her a lot of years, and I knew she was a great talent. But there is something special about her this year in regards to her energy and her hungriness. It looks like she is enjoying herself playing. She is bringing the best out of her teammates. And she is just having fun. I was just commenting in there that she's played three and a half quarters, and we make a little bit of a run and she comes sprinting to the bench jumping up and down. She's fresh. She wasn't fresh Sunday because you could tell we had been on the road for ten or eleven days. But we gave them two days off completely. And she came in yesterday and was light again. I think it helped us in the second half."
Sparks forward Jantel Lavender
Overall thoughts on the game
"We started off really slow in the first half but at the same time they shot a really high percentage. They weren't missing anything but once our defense picked up and we started to rotate and help each other a bit more that's when the game turned around."
On improvements necessary going into the playoffs
"We need to improve our consistency. If we start the game how we finish the game then we won't be in the position we were, down 15. [That consistency] will come together. People have been in and out but now that we have everybody back we can get a feel and a flow to the games"
Sparks guard Ana Dabovic
On defensive adjustments after half time
"The positive take from this game is that we didn't [falter] like we did in the first half. We talked about it at half time and realized we had to help each other out and we can't give up easy layups. We played team defense in the second half and I think that's why they only scored 30"
On the team's chemistry
"Today we showed a lot of [team chemistry]. I don't like to talk. I think everyone can see what we are doing on the court and what we are. I like that we are preparing ourselves well going into the playoffs"
Mystics head coach Mike Thibault
On second half struggles
"Well, they shot 40 free throws, and we shot 11. We have some good shooters. It's not that we didn't foul some, but 40 free throws to 11 is a big difference in the game. That's a swing in the second half. They got to the bonus in both quarters ahead of us. We had a couple crucial turnovers when they made their run. They converted them into fastbreak points. Turnovers that go out of bounds or things that you know you can get back and defend are okay. The ones that lead directly to fast breaks are the ones that killed us, and then we fouled them on those plays."
On the Mystics' defensive performance
"Not great. It was good for a stretch. But they scored 93 points. So, if you give up 93 points, you probably didn't play as well as you could."
Mystics guard Ivory Latta
On the differences in halves
"Ball movement. We moved the ball and we were making our shots. Everybody [took] good shots and they were going in."
On the free throw disparities
"You really can't comment too much on the fouls and stuff like that, you know, you get a nice little fine. We just got to continue to play hard through the adversity we go through on the road. Road games are hard, and the crowd was into it, so you got to just fight through it."
On the Mystics' overall defensive performance
"I think we did very well. We had a couple of breakdowns here and there, some things that we can easily take care of, but overall, I think we did well.
Mystics center Stefanie Dolson
On the team's offensive contribution
"It's a great thing. It makes it harder for the defense to try to pick who or what to take away. So, I think we did a good job tonight of executing our offense [and] finding the right guy to take the shot."
On the Sparks' comeback
"They just upped their defense. They did good on offense. They had a lot of energy. This one was a tough one."
On the Mystics first half offense
"We just moved the ball. We executed exactly what coach wanted. We found open men. We made good decisions."
By the Numbers
Points in the Paint: Mystics 34, Sparks 26
Second Chance Points: Mystics 12, Sparks 9
Fastbreak Points: Mystics 8, Sparks 4
Biggest Lead: Mystics 15, Sparks 9
Lead Changes: 2
Times Tied: 4