Stars honor Young-Malcolm but fall to Phoenix 82-52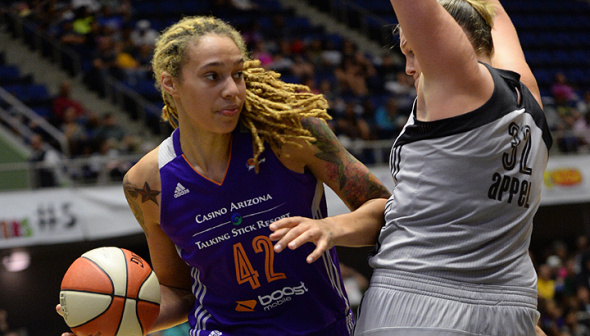 Video: Sophia Young-Malcolm discusses retirement
The Phoenix Mercury (19-13) defeated the San Antonio Stars, 82-52, Saturday night at Freeman Coliseum. It was the last game in the 10-year WNBA career of Stars forward Sophia Young-Malcolm who scored eight points and pulled down four rebounds. Coming into the game she was averaging 11.7 points and 5.1 rebounds per game. She also led all Stars starters this season with a field-goal percentage of 47.6 percent.
"I am truly blessed and privileged to have been here my whole entire career," said Young-Malcolm postgame. "I would not choose anywhere else to be. It has been a phenomenal journey, and I don't know what my life would've been if not for this. I am truly blessed, and I am very grateful."
The Stars fell behind early as Phoenix earned a six-point lead within the first three minutes of the game. After the first quarter, the Mercury had a 19-11 advantage. The Stars showed some fight late in the second quarter to score the last six points of the half but it was not enough. At the break, Phoenix led 42-29.
The second half was more of the same. The Stars never led during the contest and the defeat marked the ninth straight loss for the franchise.
Center Brittney Griner led Phoenix with 22 points and five rebounds. Candice Dupree scored 12 points and pulled down eight rebounds. Monique Currie was also in double figures with 11 points and seven rebounds.
No San Antonio players scored in double figures. Valeriane Ayayi matched Young-Malcolm's point total with eight and grabbed three rebounds.
San Antonio (7-25) has two games left in the season, an away game at Tulsa on Tuesday followed by a bout at Seattle on Sun. Sept. 13. They are out of playoff contention and will be among the four teams participating in the WNBA Draft Lottery on Thursday, Sept. 24.
Phoenix is the second place team in the West and clinched a playoff berth on Aug. 21. They head home to face Los Angeles on Friday and go on the road for their final regular season game, a match at Tulsa on Sept. 13.
Notes
The game marked Mercury head coach Sandy Brondello's 100th WNBA game coached. She ranks fourth on the WNBAs all-time winningest coach list with a .616 percentage.
Phoenix went 3-1 with San Antonio this year.
With two games remaining, Sophia Young-Malcolm ranks 21st among all-time scoring leaders of the WNBA with 4,272 points scored.
Quotes
Stars head coach Dan Hughes
On the game
"I just thought that Phoenix honestly was the more dominant team, especially playing through (Brittney) Griner the way that they did. I thought Griner was very good, and she was an enabler for them in a lot of situations."
On Phoenix's aggressiveness
"We just missed shots. We were inefficient at the free throw line really. We didn't convert with any kind of regularity, and that put a lot of stress on the defense at that point. They were able to play through her (Griner), which gave them a consistency and they were able to separate with us in the third quarter."
On Sophia Young-Malcolm's performance
"It's a tough thing to when it is your night. You can't help but think about her whole career. She was playing really hard tonight; some of the things didn't fall, which will happen. The decade of memories with the fans and those of us that have been here and have been able to appreciate. She is a really a success story. When you follow Sophia from coming to this country, developing honestly late in the game, and then what she has been able to do as a professional. Now what I think what her future will bring, that's a success story and I'm happy for her."
Stars forward Sophia Young-Malcolm
On the game
"I thought Phoenix came out very aggressive. I thought we played on our heels the whole game. They played much better than we did tonight, and we just kind of played catch-up the whole game. Obviously when we play like that it's not going to be good for us"
On Phoenix's aggressiveness
"I don't necessarily think that it caught us off guard; we knew they were going to come out aggressive. Brittney Griner is tough player to guard inside. Maybe we could've done a better job of being more aggressive on her. They hit a few threes too that were daggers that maybe we could've stopped a little bit more if we rotated and did some simple things. I have got to give them credit. I thought they played extremely well today."
On how it was for her to reflect on this being her last home game in San Antonio
"I don't necessarily think that it has hit me yet. I feel like it is just another game, and maybe after this season is over that is when it is going to hit me, when I realize it. We keep saying it, but it hasn't necessarily hit yet. It doesn't feel like it is the last game that I am going to be playing at home, but it has been great. Obviously I am sad that we lost by so much, but it has been great."
Phoenix head coach Sandy Brondello
On Sophia Malcolm-Young her rookie year
"What I really remember was that people talked about her size but she's just got this big heart. She is such a great competitor and is always trying to get better. I know my husband spent a lot of time with her one-on-one, and really developed her game. She wasn't happy just being the player she came from college. She really grew as a player in the WNBA. At the same time she is a great person. She is a great teammate. Coming back from her ACL she struggled a little bit last year, but she had a very good season this year. If you're going to go out you may as well go out in that way."
On Sophia Malcolm-Young's retirement
"It goes so quick really, 10 years. Obviously she has her reasons for retiring. She thinks it's the right time, so I commend for that. She's been great for San Antonio and not many players get to play for one organization that long, so a lot of respect for her and what she's done. She's fought back through injuries and a little adversity, but she is a classy lady. I wish her every success in what her future holds."
Phoenix guard Shameka Christon
On Sophia Malcolm-Young's retirement
"I am happy for her. I think she's done a lot for this game. She's such a great person on and off the court. Definitely I went up and congratulated her, gave her a hug, and just thanked her. She's done so much for this game. I am proud of her. She's going out on her terms. She's at peace with her decision, and I wish her nothing but the best of luck for her next journey."
By the Numbers
Points in the Paint: Mercury 34, Stars 26
Second Chance Points: Mercury 8, Stars 2
Fastbreak Points: Mercury 10, Stars 11
Biggest Lead: Mercury 32, Stars 0
Lead Changes: 0
Times Tied: 1