Anne Donovan resigns as Connecticut Sun head coach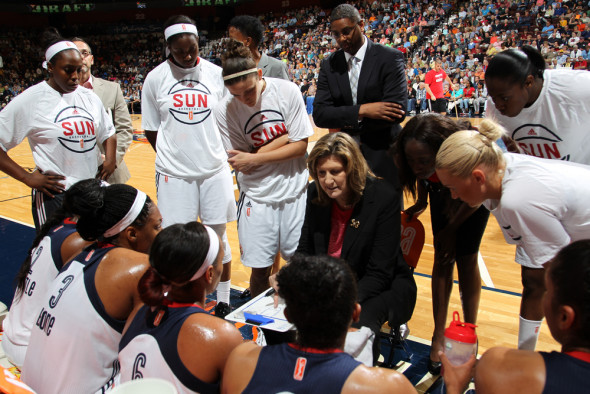 The Connecticut Sun announced today that head coach Anne Donovan has resigned.
"It's not easy walking away from a team that I put my heart and soul into, but I think it is in my best interest to move on at this time," Donovan said. "I will miss the ladies and the passion of the Sun fans.  I was proud to serve as their head coach."
Donovan took over the team  on January 3, 2013. She was a combined 38-64 in three seasons. In the final year of her contract, which expires in October, she led the Sun to a 15-19 mark.
"We are grateful to Anne for her efforts here over the past three seasons, and respect her decision to step down," Sun vice president and general manager Chris Sienko said. "The search for our next head coach will begin immediately."
Donovan's previous WNBA head coaching stints include the Indiana Fever (interim coach in 2000), the now-defunct Charlotte Sting (2001-2002), the Seattle Storm (2003-2007) and the New York Liberty (2009-2010).
She led the Storm to the WNBA championship in 2004. After leaving the Liberty she was the head coach of Seton Hall University until she resigned from that job to take over the Sun in 2013.
Connecticut assistant coach Jennifer Gillom left the team several days ago to return as head coach of Xavier College Prep in Phoenix, a private Catholic girl's school where she started her coaching career in 2004.
Sun forward/center Kelsey Bone was named the league's Most Improved Player today.