Dishin & Swishin 10/29/15 Podcast: Dawn Staley readies South Carolina for a championship run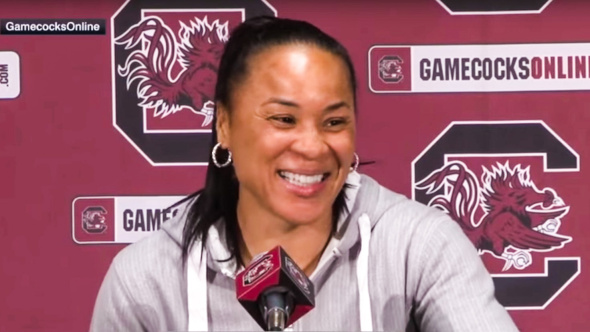 [display_podcast]
Click here to subscribe to the podcast with your feed reader or podcast app: j.mp/dishinpodcast. Available on iTunes, Player FM, Acast (iOS, Android) and Podcast Addict (Android).
Welcome to college basketball season!
On the heels of coming very close to the national championship game last season, Dawn Staley has record numbers of South Carolina Gamecock fans buying tickets to "The Show," the program's moniker for the 2015-16 season.
One could even say that with the retirement of football coach Steve Spurrier, Dawn Staley is now the most visible person in the South Carolina athletics department.
In fact, over 10,000 of those fans have put their money down on coach Staley's team, purchasing season tickets for what could be the most successful season in the history of the school.
For that to happen though, there are obstacles; there are injured bodies that need to be healthy, a difficult out-of-conference schedule that needs to be navigated, and a bruising conference schedule featuring opponents that have their own lofty expectations. For good measure, throw in a highly anticipated match up with the defending national champion Connecticut Huskies in February.
Emotional yet stoic, stern yet praising, focused but never losing sight of the big picture: Staley is a coach that fits all of those descriptions and then some. She is a coach that will take selfies of herself and her players at any time, anywhere. However, those places they go to include not just gyms and arenas around the country, but also places like Emmanuel AME Church, where she took her team this past weekend.
As she wrote in a piece on the Players' Tribune in June, "This isn't just about the four years they spend with me. This is bigger than being their coach. This is about their whole lives."
Staley had one of the busiest summers you could imagine. In addition to the usual recruiting requirements, she views her USA Basketball coaching positions as privileges and opportunities, not just a necessary obligation, and led the USA Under 19 team to gold in Chekhov, Russia, then went to Europe with the senior national team, as an assistant to Geno Auriemma.
Even when overseas, she never lost track of her players (well, with A'ja Wilson playing on that U19 team it was tough to lose track of her), even while in Russia tweeting junior center Alaina Coates about her success on the United States Pan American games team.
Like Auriemma at Connecticut, While Staley is away, the South Carolina staff is busy working with her players, and they have not seemed to skip a beat. Gone from last year's squad were leaders and starting forwards Aleighsa Welch and Elem Ibiam. Only two freshmen (one red shirt) are on the team, so the returning squad will have to fill some of those roles.
Staley is counting on the experience Coates, Wilson, and guard Tiffany Mitchell picked up with their USA teams will help them fill those gaps. Also, the Gamecocks are hoping for big things from Virginia transfer Sarah Imovbioh, a strong rebounder and inside presence who graduated, so she has instant eligibility.
It is a pleasure to welcome coach Staley back to Dishin & Swishin for this week's podcast. Topics include:
Putting last season's defeat in the Final Four behind

The busy summer

Instructing, guiding, teaching, educating; a coach's role in all of them

The growth of her players through USA Basketball experience

The difficult schedule, starting with Ohio State right away

Keeping players, the transfer epidemic, and South Carolina being a landing spot for some big names
Can South Carolina make it back to the Final Four? Can they take the next steps, to the final and a championship? A lot of people will be trying to take them down, but one thing is for sure; 10,000 plus fans will be cheering them on.
Enjoy the podcast!