UConn tops American Athletic Conference preseason poll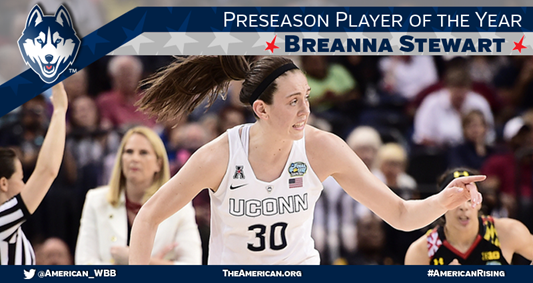 On the heels of its 10th NCAA Championship, Connecticut is the favorite in the race for the 2015-16 American Athletic Conference title.
UConn senior forward Breanna Stewart, the two-time Naismith Trophy and Wooden Award winner, was chosen unanimously as the American's Preseason Player of the Year and was one of four UConn players chosen to the preseason all-conference teams.
USF, which reached the second round of the NCAA tournament in 2015 and was The American's regular-season and tournament runner-up, was second in the preseason poll of the league's 11 head coaches.
2015-16 American Athletic Conference Preseason Coaches' Poll
Rank
Team (First-Place Votes)
Pts.
1.
UConn (10) *
100
2.
USF (1)
91
3.
Temple
76
4.
East Carolina
75
5.
Tulane
60
6.
Tulsa
56
7.
Memphis
50
8.
SMU
29
9.
UCF
28
10.
Cincinnati
22
11.
Houston
18
2015-16 American Athletic Conference Preseason Individual Honors
Preseason Player of the Year
Breanna Stewart, F, Sr., UConn *
Preseason All-Conference Teams
First Team
Moriah Jefferson, G, Sr., UConn
Breanna Stewart, F, Sr., UConn *
Morgan Tuck, F, Jr., UConn
Alisia Jenkins, F, Sr., USF
Courtney Williams, G, Sr., USF *
Second Team
Kia Nurse, G, So., UConn
Jada Payne, G/F, Sr., East Carolina
I'Tiana Taylor, F, Sr., East Carolina
Ariel Hearn, G, Sr., Memphis
Ashley Clark, G, Sr., Tulsa
*unanimous selection