Cal heads to Las Vegas with a 4-0 record and jump in the AP Poll after a successful homestand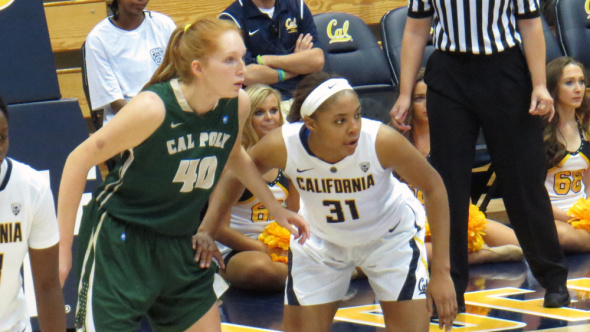 No. 16 Cal (4-0) emerged from a weekend of two home games unscathed, with a program record for three-point shots and an increase in production from newcomers. Sunday's 82-57 victory over Cal Poly (2-2) gives the Golden Bears a 4-0 start for the third time in head coach Lindsay Gottlieb's career. In addition, the team jumped five spots in this week's Associated Press poll.
"It's fun to be 4-0," said Gottlieb postgame. "I thought this was a great home crowd today and I'm really proud of our players because in this two-game homestand there was a lot of growth. They are fun to coach because they are so young. They are like sponges and pretty much listen to what I have to say and always try to keep getting better. The potential of this squad is limitless."
The Bears hit 14 treys in the contest with the majority of the three-points shots coming from sophomore forward Mikayla Cowling, sophomore guard Gabby Green and freshman guard Asha Thomas.
Cowling was a perfect 4-of-4 from three-point land as part of her 17-point, five-rebound and six-assist performance. She was among the four Cal players who finished in double figures.
Thomas led the team in scoring. The 5-4 ball handler, who has put up double-digits every game this season, had a career-high 19 points to go along with five assists and five rebounds. In addition, she committed zero turnovers in the game.
Green contributed 12 points, four rebounds and six steals while freshman forward Kristine Anigwe finished with 11 points and six rebounds. Anigwe started the first three games of the season but was missing from Sunday's starting lineup. It was a "coach's decision" according to Gottlieb. The Bears had the same starting for their first three contests and on Sunday, Anigwe was the only person missing from the bunch.
"She's growing every day, she's super talented, just a decision today," said Gottlieb about her freshman phenom.
Sophomore forward Penina Davidson started in Anigwe's place. She played until the 6:42 mark in the first quarter then was subbed out for the freshman. Mo Mosley logged 15 minutes, the most this season for the first-year guard. She finished with nine points and four rebounds. Freshman center Chen Yue also enjoyed an increase in playing time, 11 minutes. She gave Cal four points and three rebounds.
The game had a weird start when the officials hit Cal with a team technical for what the announcer said was "an improperly lit LED light" around one of the shot clocks on the floor. Cal Poly senior guard Lisa Marie Sanchez made both of the subsequent technical free throws to give the Mustangs a lead even before the tip off.
At 5:59 in the first quarter, Cal went on a 10-2 run to begin their dominance for the rest of the game. The Bears led 38-26 at the half with Thomas leading the team with 11 points.
Cal Poly did not look tired or run down but struggled offensively and were outrebounded by the Bears 37-25. In addition, Cal shot 55.2 percent from the floor to the Mustangs' 36.4 percent.
"Cal Poly is really scrappy and at times that can be hard to play against," said Gottlieb, "but today we showed that we have the potential to be a very complete basketball team because we went down to Louisville and really dominated them inside with Kristine and Courtney doing a brunt of the scoring and then we come home and score 24 threes in two days."
The Bears have a perfect record against the Mustangs, 6-0, in a series dating back to 1997-1998,  and a 27-2 record over California-based nonconference opponents in the last 10 seasons.
Cal Poly leaders included senior guard Beth Balbierz (14 points), sophomore guard Dynn Leaupepe (12 points, Sanchez (11 points, six assists) and sophomore guard Lynn Leaupepe (10 points), twin sister to Dynn. Junior forward Hanna Gilbert was also a key player for the Mustangs with six points, eight rounds and four steals.
The Mustangs return home to San Luis Obispo to host a Thanksgiving tournament Friday and Saturday that includes Santa Clara, Montana State and Evansville.
The Bears hit the road for Las Vegas for the South Point Thanksgiving Shootout, Nov. 23-27. All games during the tournament will be streamed for a fee at SportToursLive.net.
The tournament schedule is below. All games are Pacific Standard Time.
Friday, November 27
12 p.m. – Cal vs. Texas A&M
2:15 p.m. – Ohio State vs. Liberty
4:30 p.m. – Fordham vs. Texas Tech
6:45 p.m. – Washington vs. Syracuse
Saturday, November 28
12 p.m. – Texas A&M vs. Ohio State
2:15 p.m. – Liberty vs. Cal
4:30 p.m. – Syracuse vs. Fordham
6:45 p.m. – Texas Tech vs. Washington
Cal Poly at #21 Cal about to tip off #ncaaw pic.twitter.com/SZ3TEFthfH

— Hoopfeed.com (@hoopfeed) November 22, 2015
Cal assessed a tech foul before the tip for an improperly lit LED light around a hoop. Cal Poly makes FTs for 2-0 start. #ncaaw — Hoopfeed.com (@hoopfeed) November 22, 2015
Cal's freshman PG Asha Thomas scores right away to tie it up after pregame tech pts by Cal Poly #ncaaw

— Hoopfeed.com (@hoopfeed) November 22, 2015
Anigwe checks in now, at 6:42 to replace Davidson – Cal Poly at Cal. #ncaaw Cal Poly leading 7 – 6. #ncaaw — Hoopfeed.com (@hoopfeed) November 22, 2015
Shots from Courtney Range and Asha Thomas give Cal the lead halfway thru 1Q, 10-7, 4:39 #ncaaw

— Hoopfeed.com (@hoopfeed) November 22, 2015
Cal freshman Mo Mosley with 4pts so far in 1Q, scored one pt. in Cal's 1st game, didn't play in 2nd and had 0 pts in 3rd game. #ncaaw — Hoopfeed.com (@hoopfeed) November 22, 2015
Cal Poly's Lisa Marie Sanchez hits a trey at the buzzer to end 1Q. Cal 23, Cal Poly 14. Asha Thomas w/8pts/2asts #ncaaw

— Hoopfeed.com (@hoopfeed) November 22, 2015
Asha Thomas out here like Odyssey Sims 2.0 West Coast style – starting PG as a 1st year, no fear, versatile shooter, good defense. #ncaaw — Hoopfeed.com (@hoopfeed) November 22, 2015
Cal Poly's twins Dynn and Lynn Leaupepe causing fans to take double takes. Dynn is #13, Lynn is #31 #ncaaw

— Hoopfeed.com (@hoopfeed) November 22, 2015
Halftime: Cal 38, Cal Poly 26 #ncaaw Cal: Asha Thomas 11pts, Courtney Range 7pts || Cal Poly: Dynn Leaupepe 8pts — Hoopfeed.com (@hoopfeed) November 22, 2015
Cal Poly's Beth Balbierz with a trey and jumper to start the 3rd quarter, Cal 38, Cal Poly 31 #ncaaw

— Hoopfeed.com (@hoopfeed) November 22, 2015
LOL @ Penina Davidson's face on defense vs. Dynn Leaupepe as Cal Poly guard contemplates entering paint, Davidson's visage says "try me" — Hoopfeed.com (@hoopfeed) November 22, 2015
End of 3Q: Cal 64, Cal Poly 46 #ncaaw

— Hoopfeed.com (@hoopfeed) November 22, 2015
4:34 to go in the game, Cal with a comfortable 71-54 lead over Cal Poly #ncaaw — Hoopfeed.com (@hoopfeed) November 22, 2015