Cal resets for 2015-16 with Mikayla Cowling poised for a leadership role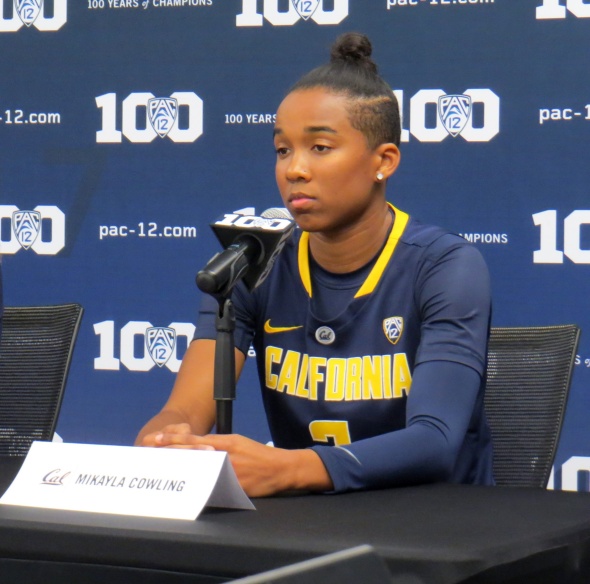 While Cal's Mikayla Cowling is only a sophomore, the 6-2 forward comes into the 2015-16 season as the most prolific scorer returning to the squad. With the graduation of center Reshanda Gray and point guard Brittany Boyd plus the departure of junior guard Mercedes Jefflo, it is Cowling's time to step up and become a vocal leader of a young team that has no seniors and just two juniors.
It is a daunting task for a second-year player, but Cowling has a first-class athletic pedigree to draw from in making the transition to becoming a guiding light for her teammates.
Leadership and Records Are All in the Family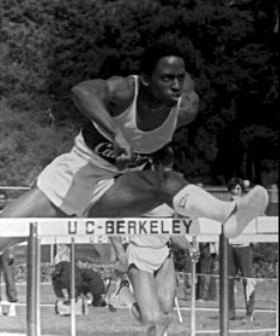 Fifteen years before Mikayla was born, the Cowling name was already in Cal record books, courtesy of her father, former track star Larry. Her dad, a member of the Cal Athletic Hall of Fame, continues to hold program records for the 110-meter hurdles and 400 hurdles. He won the NCAA title for the 110-meter hurdles as a junior in 1981.
During the same era, the twin sister of Mikayla's mother Kathy, Karen (Gilbert) Kinnebrew was playing basketball at Loyola Marymount as a member of LMU's first-ever Division I women's basketball team. Kinnebrew is tied at first for the most ever steals in a game for LMU. She was also the team captain.
Along with his wife Kathy, Larry Cowling is the proud parent of four daughters who have excelled athletically with Mikayla being the youngest.
"They've all played collegiate sports so we've had a great time with it," says Kathy, a Cal alumna herself, about her super talented brood.
Stephanie, the oldest, ran track at Cal under the tutelage of the legendary Erv Hunt, the same person who coached her father.
Dominque, the second daughter, was a standout volleyball player UC Riverside and is in the program's record books in several categories.
Third daughter Alex, following in the footsteps of aunt Karen, is a former star for LMU. She graduated in 2013 and is the West Coast Conference's all-time leader in scoring, field goals made and smashed several LMU records. Like her aunt, she was also a team captain during her time in college.
Creation of Her Own Legacy
It was inevitable that Mikayla would follow in the footsteps of her sisters as a student-athlete.
"We knew from the time she was two that she would be holding a basketball following behind her big sisters," says Kathy. "Their dad has coached each of them to really reinforce two things. One the fundamental techniques but also, most important, being a team player."
"If you watch Mikayla, she's going to try to get that pass to you before she tries to take the shot herself. And that's what makes her dangerous to play because she's going to be looking for that open player all the time."
In her freshman debut, Cowling was the fourth leading scorer for Cal averaging 10.0 points and 5.0 rebounds per contest. She had a blistering start to her freshman season with five consecutive games in double figures including an 18-point outing vs. Pacific, the team's first matchup of last season. She started in 26 games and earned a place on the Pac-12 All-Freshman team.
This season she may be looking to shoot first more. She can look to her aunt and sisters for inspiration in coming into her own as an effective leader. She wears No. 3, the same jersey number that Alex wore in college, and is no longer in the shadow of the former LMU star.
"It was tough for Mikayla because everybody would say are 'you going to be like Alex,'" Kathy reveals. However, with the wisdom of a mother, she asserts that she has always told her daughters to forge their own path.
"Don't let anyone else define you. You define yourself."
A Summer of Support and Preparation
While Kathy and Larry are busy, successful professionals in their own right, they are tireless in their support of daughters. Whenever there is an event that involves Cal women's basketball, you will spot them, sometimes along with their other daughters. This dedication included attending San Francisco Pro-Am summer league games throughout the summer, from June to August on Saturdays at Kezar Pavilion next the Golden Gate Park.
"We try to support the girls, wherever they are," says Kathy.
In a poorly lit gym built in 1924, the Cowlings were ready to cheer on Mikayla and her Cal teammates as they competed in the rec league with and against other current college players as well as a few pros including former Missouri star Amanda Lassiter.
Cowling's team in the league included two Stanford freshman (center Shannon Coffee and guard Marta Sniezek) along with UC Davis and Pacific players.
The summer league is important for players for three reasons according to Kathy.
"It helps them to focus on a few new development things, they get to practice it with good competition. Oftentimes they are playing with team members, so they are building a camaraderie. It also reinforces girls' sports in the Bay area."
Next summer, Kathy hinted that Alex may play in the Pro-Am, giving the two youngest daughters the change to play together, something that they have not done since Mikayla was in eighth grade.
The Signs of a More Confident, Outspoken Mikayla
With Boyd, Cal's floor general of the past couple of seasons now in the WNBA, it will be largely up to Mikayla to help set the tone during games this season. She has already shown signs of being comfortable in this role during practices and at Pac-12 media day last month. Her style seems to mimic that of a diplomat, lead but include.
"It's not just one person that we're looking for this year, it's kind of like everybody coming together and merging as one to lead one another," she says about Cal's leadership needs. "So it's not just one individual person, or me or Gabby (Green), or any of the other upperclassmen. I think it's all of us together as a unit."
However, she is unquestionably a beacon for the younger players as they routinely pepper her with questions during practice.
"I'm willing to give them advice, so it's just nice to have them be able to want to ask questions and want to know more though me."
Cal head coach Lindsay Gottlieb was forthright with her opinions about Cowling's role on the team.
"I can't say enough about Mikayla. I mean she's a sophomore. You're supposed to be a sophomore and to show up and play and I'm looking at her saying 'lead us, shoot the ball, be the great player that you are, guide the freshmen."
Gottlieb first met Cowling when she was an assistant at Cal and the sophomore was seven years old attending a camp at Berkeley. So her opinion on what her star sophomore can accomplish is based on years of knowledge.
For the mother hen of the Cowling clan, it is simply a joy to see her youngest daughter now building her own legacy as "she has been traveling with her sisters since she was two years old."
"For her to come in and now be playing at Cal, to get to begin at Cal and end at Cal, is kind of cool."