Dishin & Swishin 11/19/15 Podcast: Love it or hate it, Kevin McGuff's opening schedule has people talking about Ohio State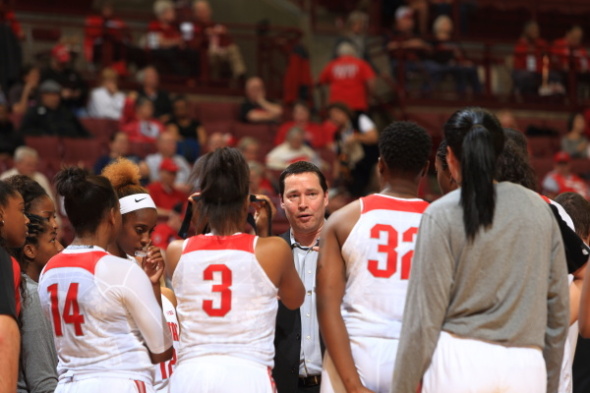 [display_podcast]
Click here to subscribe to the podcast with your feed reader or podcast app: j.mp/dishinpodcast. Available on iTunes, Player FM, Acast (iOS, Android) and Podcast Addict (Android).
In an ambitious opening schedule, Kevin McGuff's Ohio State Buckeyes began the season on the road at No. 2 South Carolina and came home to host No. 1 UConn three days later.
After two home games against Belmont and Wagner, they go to Las Vegas where they will play Liberty followed by No. 12 Texas A&M. The last of their first eight games is a road game at No. 3 Notre Dame.
That is eight games, half against teams ranked one, two, three and twelve. Either you love such an ambitious schedule or you hate it. If you love it, you say it is the best way to get better, that you are exposing your strengths and weaknesses against top competition; you see what you need to do to improve. If you hate it, you point out you have two losses in two games to start the season and your young team has not had time to work together.
McGuff is the glass half-full guy all the way. Going back to his previous jobs at Xavier and Washington, he has tried to schedule the top teams in the country, believing it was the best approach to growing his teams. The result: other than his first year at Ohio State, every team McGuff coached advanced into the postseason (seven NCAA, five WNIT), with the pinnacle being his 2009-10 Xavier team that reached the Elite Eight.
Last season the Buckeyes suffered a myriad of injuries that left the team with a short bench, and after an early December loss to Pittsburgh, they had a 4-4 record. Behind the dynamic backcourt of Ameryst Alston and Kelsey Mitchell, and the inside game of freshman Alexa Hart, they went 19-6 through the Big Ten tournament, where they finally fell to eventual conference champion Maryland. After eliminating James Madison team in the first round of the NCAA tournament, they stretched North Carolina to the limit before falling 86-84.
The leaders of that team are all back for this season: Alston, Mitchell and Cait Craft in the backcourt, along with posts Hart and Shayla Cooper. They are joined Kianna Holland and Makayla Waterman to form a nucleus of a team many feel will be at least an Elite Eight if not Final Four contender.
The future is even brighter, with high-ranking transfers Sierra Calhoun and Stephanie Mavunga scheduled to join the team next year.
Sophomore Mitchell, however, is the focal point of the offense, the nation's leading scorer as a freshman last season. Her lightning fast moves and quick release make her difficult to guard, but questions remain about her ability to be more of a true point guard, as she continues to learn when to take that shot versus distribute and get her teammates involved.
Combined with Alston, a near 20 points per game scorer in her own right, they form one of the top backcourts in the country; one that will keep them close in most games this season. Against South Carolina they combined for 59 points as they almost pulled off the upset. However, against UConn, a team with as strong a backcourt as the Buckeyes, they were held to 15 points, and the result was a blow out.
McGuff joins Dishin & Swishin this week to discuss the decision to play such a difficult schedule, the growth and evolution of Mitchell and the other young Buckeyes, the conference itself, and the "transfer epidemic" of players relocating programs and his thoughts on it as a program that has a few big name transfers.