Balanced effort helps propel No. 21 Cal to victory in double overtime battle vs. No. 19 UCLA, 108-104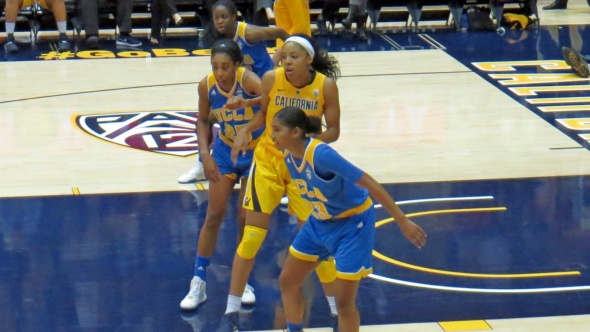 BERKELEY, Calif. – No. 21 California (8-2) overcame a valiant comeback from No. 19 UCLA (7-3) to win an epic 108-104  double overtime battle Monday night at Haas Pavilion.
"If that wasn't a commercial for the Pac-12, I don't know what is," said Cal's Lindsay Gottlieb . "I've been here for eight years as an assistant and a head coach and that's the most exciting game I've ever been a part of. I think it was great for women's basketball. I hope people were tuning in."
Before the break for exams last week, Cal came out on top at home in an overtime clash against Big Ten power Nebraska on Dec. 12.
Monday night was a rare non-conference matchup between Pac-12 foes that have a lot of respect for each other, enough to make them want to schedule a non-league game because the Pac-12's rotation would only see them playing against one another once in conference season. The game will not count toward their conference record but will count toward their overall records.
While Cal started the game looking as if they would control the contest, outscoring UCLA 21-12 in the first quarter, shooting 58.8 percent from the field to UCLA's 27.3 percent and even amassing a 16-point lead halfway through the second period, the Bruins quickly demonstrated why they are ranked in the top 20. With a balanced effort from sophomore guard Jordin Canada, senior guard Nirra Fields, sophomore forward Monique Billings and sophomore forward Lajahna Drummer, UCLA began to fight back and trade baskets with Cal.
We knew that they were going to come at us," said Gottlieb about UCLA's fight to get back into the game. Even so, she said her players "kept attacking."
The Bears went into the locker room with a 42-29 lead. Three players were in double digits at the half. Cal freshman forward Kristine Anigwe led all scorers with 15 points and six rebounds. Her teammate, junior forward Courtney Range had 12 points and six rebounds. Fields paced UCLA with 11 points in the first half.
The Bruins came out blazing in the third quarter. Led by Canada's 11 points and contributions from Billings, Fields, junior guard Kari Korver and freshman guard Kennedy Burke, UCLA outscored Cal 27-16 in the third quarter. It was two-point game heading into the fourth quarter.
The last regular period was an intense back and forth between the two teams as UCLA matched Cal's every move.
Anigwe fouled out with 1:08 left in regulation. Sophomore guard Gabby Green subbed in for the freshman phenom. UCLA's Fields fouled out with 23 seconds left.
It seemed as if Cal could put the game away after two made free throws from junior forward Penina Davidson with three seconds left in the game. After Davidson's shots from the line, the Bears led 86-83.
UCLA called a timeout, subbed in sophomore guard Kelli Hayes for Korver and completed a play that ended with Jordin Canada nailing a three-point shot at the buzzer to tie the contest. The Cal crowd had been on their feet to cheer their Bears for a win but the shot from Canada deflated their joy as they took their seats again to ride out overtime.
Even without Anigwe and Fields on the floor, the first overtime period had a familiar feel as the teams traded baskets. Once again, with just seconds left on the game clock, Cal's offense gave them the lead with time expiring. An off-kilter three-point shot from freshman point guard Asha Thomas put the Bears up 96-94 with ten seconds left on the shot clock. However, UCLA, in a mad dash to the other end of the floor, managed to get the ball to Billings on her way to the basket. Her layup tied the game again, 96 all, and a second overtime was needed.
Cal scored first in the second overtime with a jumper from sophomore forward Mikayla Cowling. With a pair of free throws from Canada the Bruins tied it up, 98 all. Cal managed to eke out a three-point lead in the next few minutes but Hayes, Drummer and Billings went to work to give UCLA a one-point edge with 48 seconds left in double overtime. A jumper from Range with 28 seconds to go put Cal on top again and the Bears never trailed again. UCLA's Canada fouled out with six seconds to go in the second overtime.
The gritty play of Cal was perhaps inspired by a quote from a sports legend.
"I did put a quote on the board before the game," said Gottlieb. "A Muhammad Ali quote. And it said 'I don't start counting my pushups until it starts to burn. Then I start counting.' So I said the toughness factor is a given and then we start after that. So in that first quarter when there were no media timeouts and at halftime I told them 'We haven't started counting yet.' So it was just tremendous. I don't think we're going to have a conditioning workout tomorrow. I think that's off the game plan."
Cal had five players in double figures: Range (29 points, 12 rebounds, five assists), Anigwe (25 points, 5 rebounds), Cowling (17 points, 5 rebounds), Davidson (15 points) and Thomas (14 points, 4 rebounds, 11 assists). Range's 29 points was a career high and her second career double-double. Davidson came off the bench to tie her best scoring outing. Cowling has scored in double figures in five consecutive games this season.
"The whole game was a battle. We knew it was going to be a battle going into it," Range said. "We just had to keep playing through it all and have each other's back. If someone falls, pick them up and keep playing."
UCLA's four players in double digits included: Canada (28 points, 5 rebounds, 8 assists), Fields (22 points, 11 rebounds), Billings (21 points, 5 rebounds), and Korver (10 points).
Gottlieb had nothing but praise for UCLA.
"I thought for them to travel up here for a non-conference game they could have bowed out a couple of times but they're fighters. They kept coming. Jordin Canada was video-game hero status and that's good for the game of women's basketball."
Before the game, UCLA's only losses were to No. 2 South Carolina and No. 3 Notre Dame.
UCLA's last non-conference game is another road contest. They face UC Riverside on Monday, December 28. The Bruins begin Pac-12 play at home on December 30 vs. crosstown rival Southern California.
The Bears host Cal State Northridge on Wednesday, Dec. 30 and begin Pac-12 play at Arizona State on Saturday, January 2.
Cal and UCLA will battle again Friday, January 22 in Los Angeles at 6 p.m. PT. The game will be broadcast on Pac-12 Networks.
Notes
It was Cal's first win over a top 25 ranked opponent since Nov. 15, when the Bears defeated then-No. 8 Lousiville 75-71 in Louisville.
The double overtime game was Cal's first since Nov. 20, 2010, which resulted in a 63-54 loss at New Mexico.
Anigwe's 25 points marked her fifth 20-point game. She has scored in double figures in all of Cal's games this season.
Thomas set a career-high assist total with 11. Her previous record was 8 earned versus Liberty on Nov. 28, 2015.
The Bears held UCLA's leading scorer Jordin Canada to only 2 points in the first half.